Celebrating wines made with grapes from one site.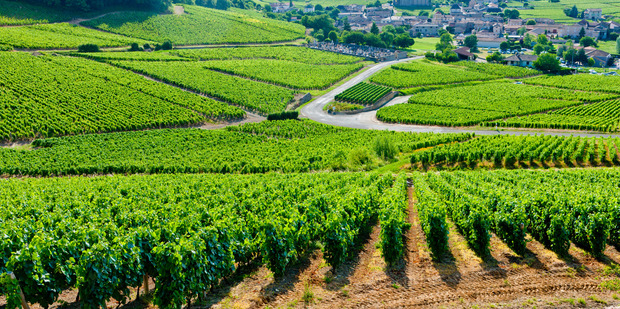 Just as animists believe spirits can reside in physical spaces, wine's "terroirists" think the soul of a great wine lies in a single site. But what does the term "single vineyard" really mean - and are these really any better than wines that are blended from a number of locations?
Though single vineyard isn't a legal definition, it should mean that wine bearing this term or specifying the name of a vineyard on its label will be made from grapes from a single site.
It's a practice that's emerged from observations that wines from even tiny areas can vary in terms of character and quality, with single vineyard wines tending to be made from the most prized spots. It's also central to the French concept of terroir - a sense of place that shines through the wines from different individual sites. At its widest, it can be seen in the general character of a whole region, while many of the world's most revered bottles are made from grapes grown on a single spot that's shown itself to produce wines bearing the most exciting and distinctive signature.
France's Burgundy region is a shrine to single vineyard wines. "While 80 per cent of the world's vineyards are blended, in Burgundy few vineyards are blended above [the second lowest] Village level" noted the "Burghound", US Burgundy expert, Allen Meadows, recently at the Melbourne Food and Wine Festival, where the growing global phenomenon of single vineyard wines was examined.
Burgundy's patchwork of vineyard plots, and famous vineyards such as the revered Romanee-Conti, were largely identified and demarcated by monks hundreds of years ago at a time, noted Meadows, when people had to be more sensitive to their local environments for survival and were consequently more attuned to sensing the differences between places.
Burgundy may be ahead of the pack, but it's not the be-all or end-all of single vineyards, with the concept not only important across the classic winegrowing regions of Europe, but increasingly here in the New World.
Though Burgundy had thousands of years to find its best sites, New World producers are at the beginning of their quest. For Randall Grahm of Bonny Doon, speaking at the Melbourne seminar, the distinctiveness derived from the land is crucial for survival in the world of fine wine. However he acknowledged: "There is a tremendous leap that has to occur before we make wines that truly express a sense of place."
So what about blends? In more marginal climates, blending grapes between different sites and varieties has often been a necessity, to create decent balanced wines. Somewhere like Champagne, a major centre of assemblage, a single wine can be made from components spanning different years to ensure consistency in both house style and quality.
In a world that loves certainty, blending is a popular tool. Although it tends to be used in more everyday examples, very often to their benefit, a top wine like Penfolds' Grange is a somewhat more controversial combination of the best grapes from across a number of regions.
Here in New Zealand, the small size of many of our producers means many produce single vineyard wines by default, but even in Marlborough where regional blending has been the norm, we're seeing more wines from single sites. And it's likely we'll see more, as our winegrowers explore their land and - like the animists and the monks of Burgundy - become connected with their own sacred sites.
SINGLED OUT
PREMIER SITE
Camille Giroud Beaune Les Avaux Premier Cru, Burgundy 2009 $74
A pretty, well-priced red burgundy with soft red fruits infused with exotic spice, florals and hints of mineral; from a premier cru vineyard, which like many in the region is split between a numbers of producers. (From decantwine.co.nz)
HOME BLOCK
Ostler Audrey's Waitaki Valley Pinot Gris 2010 $34
Made from grapes grown on the limestone slopes of Ostler's home vineyard, this impressive pinot gris juxtaposes concentrated notes of quince, nut and savoury spice with a fresh minerality. (From Fine Wine Delivery Company. Wine Circle.)
DISTINCTIVE DEBUT
Woollaston Mahana Nelson Riesling 2010 $28
From Woollastons' recently launched top tier of wines, this lower-alcohol (10.5 per cent) later-harvest riesling from their Mahan vineyard demonstrates a delicious balance between rich notes of apricot, marmalade and honeycomb and its fresh zip of grapefruit.