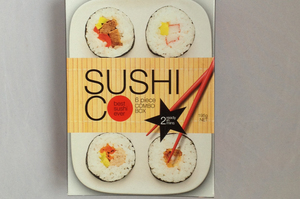 You can happily eat this healthy fish, rice and vegetable convenience food without having to worry about any of the preservatives.
I couldn't quite believe it when I saw this box of sushi staring at me from the freezer at my local supermarket. At the core of a piece of sushi is that it is made fresh every day from ingredients such as raw fish, cooked rice and vegetables. Things you wouldn't usually take from a freezer and then eat once thawed without cooking or heating first.
These frozen sushi have been provided to the food service industry since 2009 and now are being stocked in supermarkets.
The instructions on the box tell you to pop the frozen tray in the microwave for one and a half minutes and then let stand for five minutes. We don't have a microwave so I just let the pack thaw for an hour and all six pieces were consumed after school by my daughter, who said they tasted quite good. But are they as good for you as sushi you would buy fresh from a shop?
Because of the huge amount of ingredients involved I have listed them under the headings "Real Food" and "Additives."
Real food
Cooked Rice
[rice, water, vegetable oil, emulsifier (soy lecithin), rice vinegar, sugar, salt]
Mayonnaise
[water, soybean oil, vinegar, sugar, salt, mustard]
Avocado
Surimi
[white fish, wheat starch, salt, sugar, konjac flour (starch taken from the konjac plant), mirin (rice wine), water]
Tempura Prawn
[prawn, wheat flour, whey powder (milk), salt, yeast, sugar, corn starch, white pepper, vegetable shortening, soy flour]
Teriyaki Tuna
[tuna, ginger, sugar, water, soy sauce, water]
Cooked Prawn
[prawn, salt]
Cooked Tuna
[tuna, salt, water]
Carrot
Red Capsicum
Teriyaki Sauce
[soy sauce, sugar, high fructose corn syrup, fermented rice seasoning, water, vinegar (wheat, barley), salt, spice, yeast extract]
Seaweed Wasabi
[horseradish, wasabi]
Pickled Ginger
[ginger, water, salt, dextrose monohydrate (a form of sugar)]
Soy Sauce
[soybean, wheat, salt, dextrose, water]
Additive Cooked Rice
[antioxidant(306), flavour] Antioxidant (306) is a tocopherol which is a natural fat soluble antioxidant also known as Vitamin E. It has no known adverse effects. The flavour will most likely be artificial.
Mayonnaise
[thickeners (1414,1450,415)] These thickeners are acetylated distarch phosphate (1414) which is starch treated with phosphorus oxychloride and acetic acid, starch sodium octenylsuccinate (1450) which is another treated starch and xanthan gum (415) which is fermented glucose and sucrose. There are no known adverse effects for all three.
Avocado
[antioxidant (301), acidity regulator (500)] The antioxidant is sodium ascorbate (301) which is the sodium salt of vitamin C, and the acidity regulator is sodium bicarbonate (500) or baking soda. There are no known adverse effects for either.
Surimi
[stabiliser (450), acidity regulator (451), thickener (1442,1420), crab flavour, colours (120,160c) The first two additives are diphosphates (450,451)) which are salts of phosphoric acid. The thickeners are hydroxypropyl distarch phosphate (1442) and starch acetate esterified with acetic anhydride (1420) which are both treated starch. Both are considered quite safe. The crab flavour will most likely be artificial and the colours are cochineal or carmine (120) which is a red colour made from insects which can cause hyperactivity and paprika which is a red colour made from capsicums.
Tempura Prawn
[thickeners (1403,412), stabiliser (450i), raising agent (500), colour (160c) The thickeners are bleached starch (1402) which is starch bleached to remove impurities and guar gum (412) which is a gum extracted from seeds. The stabiliser is a diphospate (450i) see above, the raising agent is sodium bicarbonate, see above, and the colour is paprika, see above.
Teriyaki Tuna
[colour (150a) This colour is caramel I which is the safest of the caramel colours.
Teriyaki Sauce
[colour 150a) See above.
Wasabi
[flavour]
Pickled Ginger
[acidity regulators (260, 330) The acidity regulators are acetic Acid, glacial(260) which is basically vinegar and citric acid (330) Soy Sauce [colour (150a)] The colour is caramel I, see above.
My recommendations
There's not much in here that you wouldn't normally find in fresh sushi except things such as acidity regulators, stabilisers and antioxidants to help preserve the sushi in a good state so it doesn't collapse when you defrost it. There are artificial flavours in here for the rice and surimi. But none of those additives have health concerns. So if you want to eat frozen sushi go for it, but for my money I'll go with fresh.