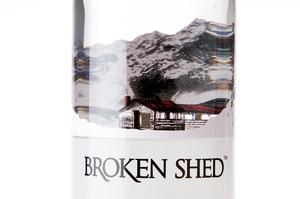 There's very little a Kiwi bloke can't do in his shed, even if he's not Kiwi by birth. When Mark O'Brien and Steve Turner moved from Connecticut to a small Otago settlement, they came seeking the good life for their families. Clean, green and most importantly, pure - New Zealand characterised several key ingredients of their favourite drink (vodka) and it wasn't too long before they were ensconced in Mark's shed, experimenting away.
It started with a plan to take a premium vodka, made in New Zealand from the best quality ingredients and quality of process, back to the United States. It's quality that really distinguishes this vodka as both boutique and worthy of the silver medals it won at the San Francisco World Spirit Competition and International Wine and Spirit Competition in 2011, just 13 months after the first bottling.
After adding a third member to the gang (an actual Kiwi bloke by the name of Mark Simmonds - alchemist and drinks fiend), the trio began trialling available ingredients to find the best combination of water sources (purity and alchemy balance being key), base spirits, processing and filtering techniques.
The end result, says Mark O'Brien, "we're proud to have all-New Zealand ingredients, using water from the Southern Alps and the highest grade spirit available."
The base spirit is made from whey protein, readily available thanks to the dairy industry, very pure and with less ecological impact than grain or potato-based starches.
Broken Shed vodka promises a clean, fresh and smooth mouth feel.
We tasted Broken Shed vodka on it's own and as part of a cocktail line-up. There's almost a nose of lavender and grass, that leads to a clean and dry finish with no overpowering burn or oily aftertaste. We let the bartenders loose with the cocktails and found it stood up well to fruity, colourful persuasions almost as well as it sat in a dry martini. If you're going to drink a vodka martini, this should be your vodka of choice. The verdict - it may not be made from traditional ingredients, but it's pretty damn good for something the boys whipped up in the shed, which is now used as a venue for parties, tastings and "quality control".
Where to buy:
RRP $74.99. Available from topshelfliquor.co.nz and selected outlets.