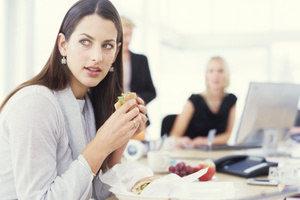 Working through your lunchbreak could cause a deadly blood clot, a New Zealand expert warns after new research found the practice is rife among young office workers.
A British survey of 1000 workers aged 21-30, commissioned by the deep vein thrombosis charity Lifeblood, found 73 per cent ate lunch at their desks.
The finding comes after research by the Medical Research Institute of New Zealand showed the risk of suffering a potentially deadly blood clot more than doubled among people who often or always ate lunch at their desks.
Sitting for extended periods decreases the flow of blood to the legs, which increases the chance of deep vein thrombosis or pulmonary embolism.
The complaint is more commonly associated with air passengers, cooped up in tight surroundings for long periods.
But Medical Research Institute director Professor Richard Beasley said the British survey's findings were "not startling at all".
He expected similar numbers of New Zealand workers would eat lunch at their desks.
But he was surprised at the amount of time office workers spent immobile, with his own research finding some blood clot patients sat at their desks for up to 14 hours a day.
"People would sit for three to four hours at a time without getting up, and I think that is the practice that actually surprised me in terms of talking to these patients."
Dr Beasley said a major shift in work practices meant many jobs were office-bound, with younger workers in particular spending more time at their desks than previous generations.
"If you look back 100 years, most jobs involved some physical activity, but now only a minority would. And I think with the huge advances in terms of IT, that really now has become a basis of many people's jobs."
The young people most at risk of blood clots often did not have other risk factors associated with deep vein thrombosis or pulmonary embolism, he said.
"They're not surprisingly falling into the categories of workers who sit for long periods - clerical and administrative and IT professionals."
Dr Beasley said people could significantly reduce the risk of clots by regularly getting up and about for brief periods.
But despite the known risks, the medical profession has been slow to recognise the issue of deep vein thrombosis at work.
"People are very well aware that we've developed a very sedentary working lifestyle compared to previously, but it's not a major focus in terms of health risks."
Dr Beasley said computer gamers who did not get up for long periods were also at risk of clots.
The British survey found 96 per cent of gamers aged 16-21 regularly played for more than 90 minutes without getting up.
The gamers remained seated for an average of two hours, with some sitting for up to five hours at a time.
- APNZ