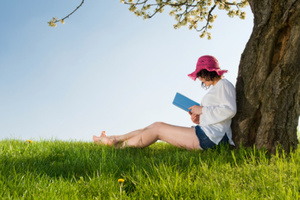 So many great new novels have come out this month that we've been seeing nothing but letters swooping and spinning behind our eyes when we close them each night, long after lights-out. Plus, we got to spend the weekend indulging in words at the Auckland Writers & Readers Festival. Bliss!
As well as our earlier May Recommended Read The Lifeboat, we've found plenty of absorbing new books to share with you. Get your fiction fix below.
1. The Forrests, by Emily Perkins
If you read one New Zealand novel this year, make it The Forrests, even just to see what all the fuss is about. It's the fourth novel by the darling of New Zealand literature, Emily Perkins, and is already being whispered about in the same breath as the Man Booker Prize (though the longlist of the notoriously unpredictable award is not out until July).
You'll have a tough time finding a bad review. It's an exquisitely written epic tale of the life of Dorothy Forrest. When Dorothy is seven, she and her family move "from oh my god the hub of the world, New York City, to Westmere, Auckland, New Zealand", and the novel follows her through love, marriage, motherhood ... until she's an old woman on her deathbed. Read a review of The Forrests by Paula Green here. And read the first chapter here.
2. The Boy Who Could See Demons, by Carolyn Jess-Cooke
Alex Broccoli is 10-years-old. He likes onions on toast, he can balance on the back legs of his chair for 14 minutes and his best friend is a 9000 year old demon named Ruen, who wants Alex to do bad things. When Alex's Mum attempts suicide, Anya, a child psychiatrist, must try to work out what is going on in the head of this intelligent and imaginative young boy. But Ruen seems to know details about Anya's life that Alex has no way of knowing, and she begins to question whether Ruen really does exist. Anya can only gain insight into Alex's psyche by exploring Ruen's bad intentions for Alex - but in doing so she risks pushing Alex to the edge. A compassionate exploration of mental illness, The Boy Who Could See Demons is a clever and engaging tale, reminiscent of Mark Haddon's The Curious Incident of the Dog in the Night-Time. You can read an extract on Carolyn Jess-Cooke's website.
3. No Time Like the Present, by Nadine Gordimer
Steve and Jabulile were once clandestine lovers under South Africa's racial segregation laws. She is black and he is white. They married in secret, and fought for an end to apartheid, an end that was supposed to bring a 'better life for all'. Now Steve and Jabu have two children and seem to be living the suburban dream; Steve is a professor of chemical engineering and Jabu is studying law. But freedom brings many challenges; the gap between rich and poor is vast and growing, the crime rate is skyrocketing and rape is commonplace, there are suspicions of corruption and a growing AIDS epidemic. As the turmoil increasingly affects their everyday lives, Steve finds himself considering the ultimate betrayal by one who has fought for freedom: seeking a new life in Australia. In No Time Like the Present, 88-year-old Nobel prize-winning author Nadine Gordimer turns her unflinching gaze on both the personal realities and true political events in the ongoing struggle to create a new South Africa.
4. In One Person, by John Irving
As a 13-year-old growing up in small-town Vermont in the 1950s, Billy Abbott spent a lot of time trying to work out why he had so many "dangerous crushes" on the "wrong people". People like his stepfather and Miss Frost, the tall and beautiful librarian with a perfect bosom and a surprising secret. Now in his sixties and a bisexual novelist, Billy looks back over his life, recalling how "we are formed by what we desire". Two-thirds of the book is dedicated to Billy's sexual awakening and teenage years, while the final third is a devastating account of the 1980s AIDS epidemic in New York. Populated by a cast of theatrical, entertaining (and often cross-dressing) characters, John Irving's 13th novel is an exploration of desire, acceptance, truth and denial.
5. The Girl Who Fell From The Sky, by Simon Mawer
It's World War II and half-French, half-British 19-year-old Marian Sutro is plucked from her London WAAF desk job to train as an undercover agent and, eventually, to parachute into occupied France on a secret mission. The Girl Who Fell From The Sky is not as nuanced and sophisticated as Mawer's Booker short-listed novel The Glass Room, and it retraces some well-worn footsteps, most obviously New Zealand-born Nancy Wake's real-life World War II exploits and Sebastian Faulks' fictional heroine Charlotte Gray. But it is a thrilling read and it would make an empowering addition to a young woman's book shelf, especially. If you buy it before August 1 and don't like it, publisher Hachette New Zealand promises to give you a refund. Read the first chapter here.
6. A Land More Kind Than Home, by Wiley Cash
This is one of those harrowing tales that stays with you, whether you like it or not. It's a debut novel set in the mountains of North Carolina, where the congregation of the River Road Church of Christ in Signs Following are encouraged by an unhinged preacher to show their faith in God by handling deadly snakes, drinking poison and holding fire to their faces. It unravels the events surrounding the death of an autistic boy during a healing service, through the eyes of his nine-year-old brother, an elderly woman and the local sheriff. Read an extract here.
7. The Chaperone, by Laura Moriarty
On a 1922 summer's day, 36-year-old Cora Carlisle boards a train bound for New York, charged with the care of a beautiful and unconventional 15-year-old girl determined to make it big in New York City. The girl is Louise Brooks, real-life star of the silent screen, known for her outrageous and irreverent behaviour. Cora is on her own journey of discovery, returning to the city where she spent her formative years at The New York Home for Friendless Girls and hoping to uncover the truth about her past. As she struggles to supervise Louise amid the glamour of 1920s New York, corset-wearing Cora's eyes are opened to new possibilities and the five weeks they spend together will transform both of their lives forever. A lively and engaging read, full of period detail.
Read a great new novel lately? Tell us about it below.