Address: 372 Broadway Newmarket, Auckland
Ph: 09 522 4410
Open: Seven days, noon 'til late
Website: thecladdagh.co.nz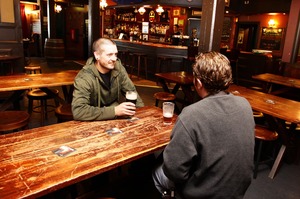 I hadn't been into the Claddagh for yonks, so when the traffic along Broadway got too much for me one afternoon, I pulled over to wait out the rush.
It had been about three or four years since I'd been inside the place and it had its own atmosphere back then. It was dark, low-ceilinged and full of odd nooks and crannies from where people would appear without warning.
The staff back then were an idiosyncratic crew with their own special charm. The food was pretty rough, but the beer was well kept and there was always something going on down the alleyway that it sits in.
It's been through a few hands since, but it looks pretty good for a pub its age. The bar seems brighter than before and there is an airier atmosphere in there now. You can read a menu by the natural daylight at any rate, which makes life a lot easier.
The food is standard bar fare; tasty, stick-to-the-ribs stuff that will soak up a few pints, and the service is quick, friendly and efficient.
The wine list seems fine, too, and the spirits selection has all the usual suspects and a broader range of Irish whiskey. The beer was fine too, if a little too cold for my taste.
All in all, I was relieved to see the old girl was still swinging and the list of regular events would suggest that it's a well-patronised pub.
Long may it continue to offer a sane haven from the horror of Newmarket's traffic.