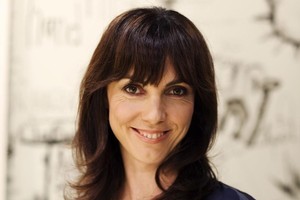 Rolling Stone journalist Michael Hastings did Emily Perkins a favour by pulling out of his commitments at the Auckland Writers & Readers Festival, which opened yesterday.
Instead of Perkins talking about her new novel The Forrests in the basement bunkhole at the Aotea Centre, Hastings' absence meant she was elevated into the capacious ASB Theatre, where she must have been gratified to see a large audience.
Perkins was hosted by fellow writer Paula Morris, a happy pairing of contemporaries who understand each other's thinking. Perkins explained that she had been an "extremely bookish" kid who started writing young, encouraged by her English teachers. And now, when she looks back at what she devoured in her teens, she no longer feels so fearful when she sees her own kids reading the Twilight series.
She read from two sections of The Forrests, a narrative of the life of Dorothy Forrest from when she was 7 until the very end of her life.
And her optimum writing conditions? a member of the audience asked. "Snacks."
Irish writer Sebastian Barry charmed his largely female audience, clearly not for the first time. Barry, who comes from what he described as a "toxic" family, is inspired by the stories of some of his 19th and 20th century ancestors whose history has vanished. He most often doesn't know the exact facts but makes it all up from the basics, so "it is hokum, but hopefully benign hokum".
He performed a dramatic reading from his latest novel On Canaan's Side, building inexorably up to a terrible murder, and responded to a question about critics: "Criticism is like heart surgery as a hobby."
His beloved grandfather reacted badly to one of his earliest works and they never spoke again. What a price to pay.
British human rights journalist Caroline Moorehead's session with Carole Beu was an inspiration. Moorehead's speciality is long research and hard groundwork to uncover stories which are often otherwise pushed aside. Her 2005 book, Human Cargo, about the international refugee crisis, even touched on New Zealand, citing the Tampa boat drama and the Clark Government's benign response as an example of us being "the good guys".
When Beu pointed out the upcoming exercises to deter the alleged "hordes of boat people" bearing down on our shores, the audience laughed, but not in a good way.
But the main focus of Moorehead's session was to discuss her latest, A Train In Winter, about 230 French resistance "fighters" - all women - who never committed any violent acts but tried to help people, mostly Jews, escape. They were all betrayed and sent to Auschwitz, where the very young and very old women all died within months. One of them was a 15-year-old who had written "V" on a wall. In total, 49 women survived. Moorehead interviewed the four women who were still alive while she was researching the book.