Long Bay College student Brad Chamley (17) is performing in the Class Comedians' Graduation Showcase today at 3pm, as part of the 20th NZ International Comedy Festival.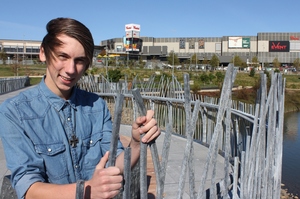 Albany has changed loads in the last few years. Buildings are shooting up, there are lots more traffic lights and the roads are getting wider. When the people I live with moved into our street 16 years ago, it was a country lane and now it's a four-lane highway, but it still has a lovely atmosphere. I think it's a good thing, the growth, although I think eventually Auckland will go overboard with growing outwards.
When my parents left Auckland I decided to stay here, so I live with family friends.
My perfect Saturday in Albany would be: well, I'm a teenager so I like to sleep most of the day when I can, but when I'm not at school or sleeping, I generally like to shop, and the Westfield Albany Mall is the biggest in New Zealand. Wendy's is a favourite - they have good sundaes. And there's a great clothing store called Factorie which is pretty much all I wear, they're sort of up with the trends and have really modern stuff. Every Saturday I love going to a little place called Columbus Cafe, in the Albany Mall. It's a great place, you get a great meal, the staff are really good. My favourite meal is a mocha frappe and eggs on toast. And they have a really good selection of breads with names that I can't pronounce.
There's also the Albany Lakes outside the mall. They're man-made lakes, and they're great. There's a path round them and a bridge across the middle.
It's quite urban so there's not a lot of bird life, they are right by the mall.
Albany Mini Golf is another place I love, and it attracts a lot of attention because it's quite original. There's a hole that goes through a waterfall, and another that goes up a hill - you can't mess up or the ball keeps rolling down hill. We go to Event Cinemas quite a lot, it's joined on to the mall, and it's so close to home, we just go to anything. They do cheap movies on Tuesdays for $10.
Long Bay Beach is another place where my friends like to go. We swim there, hang out. It's quite a flat beach, we've grown up there.
My school, Long Bay College, is really hands-on about learning. The school is great, it's so close to everything. The transport is really good, the buses go everywhere,
They've recently renovated the PE, technology and theatre departments, and there's a new auditorium. I do music, drama and dance at school and I'm really into all those things - I also do chemistry and maths.
We're right by North Harbour Stadium. I haven't been to a game yet this year but I went to two or three last year. I used to support the Blues but I think I will support the Chiefs this year.
We also have the More FM Tennis courts nearby, which I go to a lot with friends. I've only recently started tennis, I've been playing for about a year now. I play with a very competitive family; they used to try to let me win, but now they don't.
Brad's picks:
* The Albany Mall. There you'll find Wendy's, Columbus Cafe, Event Cinemas and a clothing store called Factorie.
* Albany Mini Golf, 157 Oteha Valley Rd, ph (09) 476 5030. Not one, but two 18-hole courses. One is challenging, the other is slightly more challenging; the second course is half-price. Rated best mini golf in NZ by listeners of The Edge.
* More FM Tennis Park, 321 Oteha Valley Rd, Albany, ph (09) 414 5530. This tennis centre has six indoor courts, 11 outdoor courts, tennis academies, mid-week ladies tennis, court hire. Super flash.