Gill South bites the bullet and decides to join a gym in a bid to build up her general health and fortify her immune system.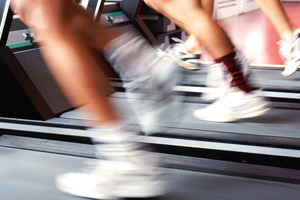 Well, the highly unlikely has happened. I've joined a gym. And let me tell you it wasn't easy. It took much agonising and tossing and turning the night before. In the half-hour before actually signing up, I could have gone either way. If I'd had a discouraging conversation, I would have run for the hills. As it was I had a nice pot of tea and a blueberry muffin at the gym's cafe - probably not recommended behaviour of a soon-to-be gym bunny - while I waited to sign my life away. It was very pleasant, the people looked nice, some gratifyingly unglamorous, others who didn't look like they'd ever gone anywhere near a barbell in their lives. But I thought, yes, I could feel comfortable here.
I chose this gym because I can do several activities that I really enjoy and don't need to be dragged to kicking and screaming. And rather than just having one class at a certain time, I can choose from about 70, so if a meeting comes up and I can't make a session it's no big deal, I can do something else. Another perk is I can temporarily join my kids up in the school holidays very inexpensively which they will love - they still think fitness stuff is fun, bless them.
The last time I joined a sports club, I did it for three months seven years ago and I was slightly downhearted to find that I managed to put weight on rather than take it off. People kindly said it was muscle, but I knew better.
I've chosen winter to join up because I can feel my usual aches coming on and I just don't feel like striding out on big walks when it's chilly. Now I'm going to be nice and cosy at my gym, I can be cycling away or on that cross trainer thing, (she says technically) and when it's summer I'll be in the pool and doing more outdoor stuff there. A good friend does all her reading at the gym, the book propped up against various pieces of equipment while she exercises. This appeals, though I don't think it's recommended.
Why did I decide now was the time to join a gym of all times? The more I learn about wellbeing, the more I realise how important regular exercise is to stave off all kinds of health problems and I just don't think I can get away with doing it in my slapdash fashion any more. I'm no longer carrying toddlers around on my hip, I have a sedentary job and I need to be more active in all seasons to stay strong and immune from the lurgies.
I was curious to read a recent survey on gym bunnies.
The Canstar Blue survey found that people felt it was a serious business, with 70 per cent saying they felt guilty if they missed a workout. Ah well, my guilt knows no bounds - take a number and get in the queue. According to the research, people are not at the gym to socialise, or to meet someone, half of them working out alone. Fine with me, though I do like to have a bit of a laugh with someone as I fall off an expensive piece of equipment. Is my gym ready for me, we all ask?
Next week:
I take a look at the unsexy subject of gums. I'm feeling a bit run down and my gums feel tender. What is this telling me? I talk to some oral health experts.