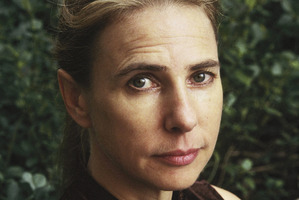 Lionel Shriver reckons it's time to reclaim our sense of humour about terrorism. "Isn't comedy a nefariously devastating weapon?" says the novelist and writer. "The one thing a jihadist, for example, can't stand is to be laughed at. I've long thought the 'Underpants Bomber' got his just desserts, if only by being tagged with that humiliating and intrinsically comic handle."
Shriver's eleventh novel, The New Republic, takes a comic look at the public and media obsession with terrorism and the way journalists and terrorists feed off each other. She wrote it in 1998, but at the time her "poisonous" sales record, combined with the fact that Americans "largely dismissed terrorism as Foreigners' Boring Problem'" meant she could not find a publisher. That changed with the events of 9/11 and the runaway success of We Need to Talk About Kevin in 2003, but terrorism then became such a sensitive subject that the book was kept "on ice" until this year.
It's the story of wannabe foreign correspondent Edgar Kellogg, who is assigned to the small and desolate Portuguese province of Barba, home to a separatist terrorist movement known as the SOB, to replace a journalist who is mysteriously missing. But the terrorist acts claimed by the SOB suddenly dry up and Edgar is left scrounging for stories among a bunch of jaded and self-important foreign correspondents.
Q: The book examines how the SOB works as a terrorist organisation. How did you develop your ideas around this?
A: The novel began with the premise: postulating how one might systematically take public responsibility for unclaimed terrorist incidents (especially in the 80s and 90s, orphaned atrocities were perplexingly commonplace) in the name of a fictional organization, and thereby amass real political clout. And I fancied the Pygmalion arc whereby a made-up guerilla group might eventually manifest the real thing. The purpose of telling the story of this seemingly harmless prank that goes wrong was to illustrate what I learned in Northern Ireland and is too rarely observed about terrorism: it works. It works fiendishly well. The people who were bombing the bejesus out of Northern Ireland for 30 years are now running the place. And these days Islamic terrorism is equally effective-especially at making the culprits, their motives, their grievances, their ostensible political purposes, the centre of attention, which is in my view not the secondary but the primary objective of virtually all terrorism-including school shootings and the likes of that lunatic Breivik in Norway.
So: at the end of the novel, this nowheresville s***hole called Barba gets its independence, even though at least to begin with its people didn't even want independence. Hence the title: a new republic is born. Out of joke, to begin with, Barba having seemed to harbour a violent terrorist insurgency, although eventually having spawned a real terrorist insurgency. The novel is in some ways a parable, or an allegory.
Q: Edgar Kellogg is not a particularly likeable lead character. What is it about him that appeals to you as a writer?
A: What Edgar himself regards as his greatest failing-a tendency to become entranced with other people, a proclivity he perceives as weakness is, in truth, his greatest strength. A capacity for admiration is the nicest thing about him, though it takes my protagonist the entire book (and the reader the entire book as well) to appreciate this fact. I think Edgar gradually grows more likeable as we come to understand better where his initial wariness and defensiveness hail from (being abused as a fat kid). I far prefer a character who becomes more sympathetic over the course of the novel to one who starts out a bland paragon. After all, a paragon can only disappoint. A character with foibles is not only more like a real person, but also has the capacity to surprise.
Q: The book examines the symbiotic relationship between journalists and terrorists - journalists need terrorists as much as the terrorists need journalists. How important is the role of the media in promoting or even perpetuating terrorism?
A: If a bomb blows up in a forest and no one reports it, does it make a noise? Conspicuously not. The media are in a quandary, with which I am sympathetic, actually. I don't advocate press censorship. But there is surely a place for restraint. This issue has become almost as big in Norway as the Breivik story itself: should we be giving this nutcase so much attention? Providing him a platform for his unpleasant views? Doesn't such massive coverage encourage other unhappy, unstable people to bid for the same obsessive focus on their problems and opinions in by deploying the worst possible methods? (Obviously, the answer is yes.) The trouble is, even this discussion is still dishing out the focus these people crave. That newspaper in Norway that ran a silhouette of Breivik instead of his face was still putting the guy on the front page.
But perhaps worse than media coverage has been the US and often UK governments' eagerness to put fighting terrorism at the centre of foreign policy, and even of domestic policy. I think that's an even greater perverse incentive to terrorism. Likewise the over the top security measures in airports, for example. We've allowed terrorists to utterly destroy the experience one of our primary forms of transportation. Whenever we distort our behaviour because of terrorism (change what we read or write or think about, change our government policies, constrain civil liberties, turn hopping a flight to NY into a nightmare) the bad guys win.
Q: The book highlights some questionable practices in modern journalism, such as a grammatical error that is repeated by enough media outlets until it becomes the accepted term, and the editing of hours of footage down to a few minutes, so that a riot appears more continuously violent than the reality. Are modern newsgathering and reporting techniques having a detrimental effect on the quality of reporting?
A: Clearly the internet is now able to spread errors and unfounded rumours even more quickly (and more permanently) than traditional media. But my greatest concern as we go forward is that the whole profession of journalism is increasingly imperilled as newspapers shut down and funding even for television news is contracting. I dread being dependent for information about the rest of the world on some amateur wally with a mobile phone, or on a bunch of bloggers yammering at their computer screens. I don't want to have to wade through a sea of populist bilge to find some semblance of the truth. I took the mickey out of journalists a bit in TNR, but I am still a big admirer of responsible journalists who know the difference between fact and fiction, and I treasure newspapers like the New York Times - whose finances are now very precarious-that still fact-check and have standards.
Q: Your novels have dealt with some weighty topics, from high school shootings to terrorism, the US medical system and population control. What's next on your radar?
A: I'm just finishing up a novel about obesity - a weighty topic if there ever was one.