A proper village centre and the nearby arts centre were two of the main attractions when multimedia artist Siliga David Setoga and his wife, museum educator and stay-at-home mum Luisa Lefao-Setoga chose Mangere Bridge to raise their five children, he tells Melanie Cooper.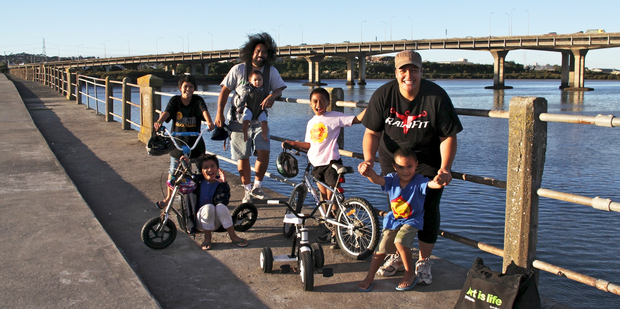 We're right around the corner from Coronation Rd, so the Mangere Bridge Village is a just a few minutes' walk away. Calling it a "village" isn't just a nice name, there's a real sense of community around those shops and it has a village feel.
In the summer on Thursday nights there's jazz in the village and it has its own little annual food and wine festival too. They've been holding a farmers' market in the little area across from the SuperValue and now that's going to be there every Sunday morning.
Around the shops you notice that Mangere Bridge is home to a really diverse range of ethnicities, which is cool, and it's also a really diverse range of ages. So you've got new families coming into the area but you've got also people who have lived forever and the retirement village is right there too.
One side of the shops is your standard takeaways but on the other side there's a great line-up of cafes to choose from. It gets really busy at the weekend and there's a great atmosphere.
One of my favourites was Bridge Cafe but it's gone so I'm making my way through the others.
The library is behind the shops and beside that there's Swanson Park. It has a good little playground, plenty of room for our kids to run around and play and a great view of Mangere Mountain.
Just down the road from shops is the old-school bridge where people come to fish and where I taught my kids to ride their bikes. It's a long, straight stretch that cars can't come down so it's safe. Heaps of cyclists use it.
I work from home so it's great having everything so close. One of the reasons we moved here from Mt Eden two years ago was to be closer to the Mangere Arts Centre - Nga Tohu o Uenuku where I've done a lot of different work.
It's also great to have a live theatre nearby, it's something everybody should have access to I think. It's getting The Brave this weekend which I've seen and it's incredible. We're taking the older kids because live theatre is such a good experience. It's so different to watching a screen.
The Village has everything you need close by, but Mangere Bridge is also just a few clicks away from Dominion Rd if you want to head into town - but it's far enough away that it has its own essence.
Local identi-tee
T-shirts from Siliga David Setoga's Popohardwear label are currently on display in Auckland Museum's Identi-Tee exhibition, which explores how T-shirts express identity. To add a T-shirt story of your own visit identi-tee.com or join Siliga's "Wearable Art" session at the museum on Wednesday May 16 12.30pm and Saturday May 19 2pm.