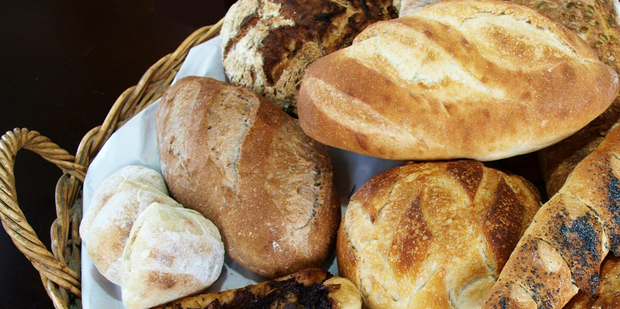 You've possibly tasted Pukeko Bakery bread already, whether you know it or not. They supply a lot of Auckland's well-known restaurants including Simon Gault's Euro. But you don't have to eat out to enjoy one of their amazing loaves, you'll find them in many farmers' markets around Auckland as well as in their shop in Parnell (and soon Milford and Mairangi Bay).
Jason Olmstead's love affair with bread started in Colorado when he worked in a French bakery. "It's funny," he says "at the time it drove me mad that the owner was such a stickler for having everything done the true French artisan way but now I'm really glad I learned those techniques."
His connection with New Zealand began in a bar when he met his soon-to-be-wife who "dragged him back here" in 1999. His original plan was to start up a restaurant but when he discovered the lack of artisan bread here he changed tack.
He started working out of a small bakery in Mairangi Bay. As luck would have it, one day during the 2000 America's Cup, the Prada team sailed in.
After a taste of Jason's bread the Italians asked him to supply them for the duration of the Cup. This exposure made him supplier to restaurants in the Viaduct area and it snowballed from there.
We can see why the Prada team (and eventually all the America's Cup syndicates) fell for his bread. Most of the loaves are simply made from flour, water and salt and everything is hand crafted. They do a huge range but my picks would be the perfectly sour San Francisco Sourdough; the moist Kumara Bread which has roasted kumara, pumpkin and sunflower seeds and manuka honey in it; and the Schiacciata (Italian flatbread). Pukeko does a variety of Schiacciata but I am still dreaming about the balsamic caramelised onion topped one. I was also a big fan of the Walnut Bread which had manuka honey in it, and whose nutty flavour would be perfect with a good quality blue cheese.
New Zealand does many things well but commercial bread hasn't historically been one of them. Luckily this is changing. With Jason's experience in the States, France and Italy you can definitely get the real deal at a market near you.
Where to buy:
Shop at 1 Ayr St, Parnell or markets at Matakana, La Cigale, Parnell, City Farmers' Market, Otara, Takapuna, Hobsonville, Puhoi, Glenfield Night Markets, Avondale, Titirangi, Kumeu and Coatesville.