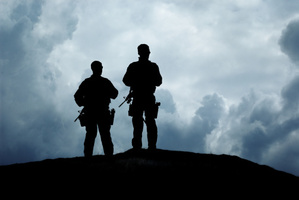 When it comes to war, novelists are like carpetbaggers. Carpetbaggers, as readers of Gone With The Wind will know, was a pejorative nickname Scarlett O'Hara and her compatriots gave to fortune-seeking Yankees who "came south like buzzards" following the American Civil War, "swarming in trying to pick our bones a little barer than they already are".
Novelists too are war profiteers, capitalising on one of the most dramatic events in the human experience, albeit often for the higher goal of enlightenment.
It being Anzac Day tomorrow we thought it was timely to declare our Fiction Addiction list of the five best war novels. (A declaration: I haven't read For Whom the Bells Tolls, A Farewell to Arms, or War and Peace, so they are glaring omissions in both my literary education and this list.)
1. Catch-22 by Joseph Heller
Hilarious in its horror, and horrifying in its hilarity, Catch-22 follows American Captain Joseph Yossarian's attempts to evade duty as a bombardier while stationed on a Mediterranean island during World War II. The Catch-22 is that if a crew member asks to be excused from a dangerous mission on the grounds he is crazy, he will be judged to be sane and denied a reprieve, because only a crazy person would willingly go. The story was originally titled Catch-18, but Heller was advised to change it to avoid confusion with Leon Uris's war novel Mila 18. So he agreed to Catch-11, but that was rejected because of the impending release of the original Ocean's Eleven movie. Catch-14 was also rejected because the publisher thought it was an "unfunny" number.
2. Scoop by Evelyn Waugh
In this uproarious satire of war reporting, the gardening correspondent of a London newspaper is sent to cover an impending civil war in a fictional African country, in place of the paper's foreign correspondent, who has the same name. It was inspired by Waugh's stint covering Mussolini's expected invasion of Abyssinia for the Daily Mail. When Waugh got what he thought was the scoop on the invasion, he filed his story in Latin in case his lesser-educated competition got wind of it. But his editor didn't know Latin either and binned it, thinking it was a prank.
3. A Tale of Two Cities by Charles Dickens
It might be a stretch to call this a war novel but, for a novelist, a revolution is the next best thing. It's a sweeping, dramatic epic that tells the story of half a dozen English and French people caught up in the French Revolution. In this novel, Dickens gave the world one of the most famous opening lines in literature: "It was the best of times, it was the worst of times, it was the age of wisdom, it was the age of foolishness, it was the epoch of belief, it was the epoch of incredulity, it was the season of Light, it was the season of Darkness, it was the spring of hope, it was the winter of despair..."
4. Tu by Patricia Grace
An intimate portrayal of World War II told through the eyes of a young soldier in the Maori Battalion who follows his two older brothers to battle, and is the only one who returns. Its strength is in its depictions of the ordinary Kiwi soldier's war in Italy - including the Battle of Monte Cassino. Grace drew inspiration from the experience of her father and other relatives. (Maurice Shadbolt's Season of the Jew trilogy is another notable war novel by a New Zealand author, but I'm struggling to think of others.)
5. The War of the Worlds by HG Wells
Forget the cheesy musical version and the unfaithful Spielberg/Cruise movie. The original 1898 novel The War of The Worlds is a slim book that pioneered the man-versus-alien sub-genre of science fiction and was eerily prophetic, given the mechanised killing that laid waste to Europe less than two decades later. It tells the story of an invasion of England by machine-like Martians, and one man's bid for survival. In 1938 an Orson Welles radio adaptation of the book sparked mass hysteria across America. (One woman in New Jersey rang the police to ask if she would be safe from the aliens if she closed her windows.) If you've been subjected to the Jeff Wayne musical version you'll understand that it's hard to read the original without hearing the cry "ooooollllaaa" continuously reverberating through your head. But do try.
What are your favourite war novels?