Spooky events in an English manor house entertain Nicky Pellegrino.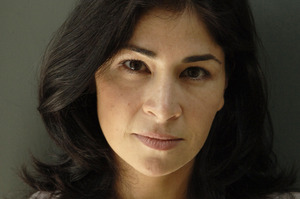 UK author Sadie Jones' third novel, The Uninvited Guests (Chatto & Windus, $37.99), is a supernatural drama set in the early 1900s and played out in an English country house. But this is no Downton Abbey with ghosts. It is more contrived and considerably more eccentric than the hit TV series; a theatrical period piece with moral undertones influenced by Saki's stylish short stories.
The scenes take place in Sterne, a manor house much loved by the Torrington family, who are in financial straits and on the brink of losing their home. It's all simply ghastly but, while her stepfather is away trying to raise funds, posh Emerald Torrington plans to celebrate her 20th birthday with a dinner party.
Downstairs in the kitchen the staff are in a frenzy of preparation. Upstairs, Charlotte, the mistress of the house, is trying to match-make Emerald with a wealthy local man. Meanwhile, her mischievous youngest daughter, Smudge, is planning a risky "Great Undertaking" and her charming but feckless son Clovis (surely a Saki reference) is pleasing himself as usual.
And so the main characters are all on stage. But the real action doesn't begin until the strangers appear.
With their dinner guests arrives some dreadful news. There has been a train accident and Sterne must ready itself to take in some of the passengers. The weather readies us for a haunting - there are sudden chills and darkness. Then out of the gloom come the survivors seeking shelter.
At first the Torringtons treat their uninvited guests rather shabbily, shutting them up in the morning room and offering only tea as they try to get on with their party. But there is one among them who can't be ignored so easily.
Charlie Traversham-Beechers is the only first class passenger and a man of dubious charm. He inveigles his way into Emerald's dinner and sets one guest against the other with a particularly cruel parlour game. Only Charlotte suspects how destructive he is capable of being.
As the night wears on, secrets are revealed, love blooms, a pony finds itself in an unusual situation and more and more demands are made on the family.
This novel is quite a departure for Jones, whose previous work is more conventional and realistic literary fare. For a ghost story it is mildly spooky, but she writes with a light, sure hand, her prose sparkling with wit and a sense of the author having fun with her characters. The ending is gloriously chaotic yet she ties up all loose ends in the nick of time. A diverting read that will entertain more than it will haunt.