Dai Henwood, comedian, telly host - and total tea fan.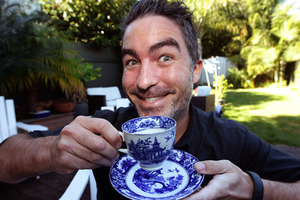 My happy place is sitting in the backyard doing my own take on a Japanese/Chinese tea ceremony. I'm a tea enthusiast and connoisseur and it's my meditative place to be. I try to do it once a day, in the early morning sun if I can, for about 30 minutes. If I'm not in my happy place when I sit down, it puts me in my happy place. It's such a juxtaposition from doing comedy, and it feeds the quieter part of my personality.
I drink a tea called Pu-erh. It's a fermented tea from China that can be up to 50 years old, and it comes in a cake form. You have to rinse it out and brew it a couple of times. You can brew it up to seven times, and it becomes quite a ceremony. It's not something that can be judged in a scientific way - it's not this-many-leaves-for-this-many-minutes. It's something that should be brewed slowly and you have to take time over. It's incredibly peaceful and I like the smell of it and I love the accoutrements that go with it.
When I first tried drinking tea I was 15 and doing School Certificate, and I read somewhere that it was very good for your brain. So I drank heaps of green tea one day and got really sick.
It ruined three days of study. I didn't really enjoy the taste but I was at the age that I forced myself to enjoy it. It was the same with punk music. I didn't like that at first either, but because my friends were into it ...
Growing up I was always the class clown, but I definitely had this other side of me that was more peaceful. I've always been fascinated by Buddhism and Taoism. I studied drama and Eastern religion at university. I discovered Pu-erh when my father was performing The Phantom of the Opera in Japan. I'd stay with him, and perform at the Tokyo Comedy Festival, and investigate eastern religion and meditation.
Everyone else I know just drinks white with one, and I'm happy enough to dip a Choysa teabag in a cup, just like my parents do. And I do drink coffee, but not as much. I find coffee is more grab it, put it in the cup, slam it down and I'm off. I think more and more people are moving into tea, and it's going to have a resurgence in the next 10 years.
- as told to Bronwyn Sell
* Dai Henwood stars in 7 Days Live, running May 3-5 at SkyCity Theatre as part of the 2012 NZ International Comedy Festival. Bookings 0800 Ticketek (842 538).