In remembrance of Kiwi troops and their ship-shape boots, Justin Newcombe creates vintage-looking storage for his shoeshine kit.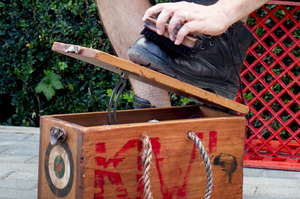 A national symbol derived from boot polish?
It's true, that's where the term Kiwi comes from. In an age when being racy was changing the name of the mainland from the Middle Island to the South Island, an Australian boot polish manufacturer with a Kiwi wife was the supplier of choice for the troops of the British Empire's most southern reaches. No doubt the chaps of old Blighty believed their polish - like their rugby teams and battle tactics - were superior to anything else on Earth, but British troops on the ground were a little more pragmatic. Looking after your feet in the face of hell might seem a bit trivial but sore feet were not acceptable grounds for sitting the next one out. So boot maintenance was as important as weapon maintenance. Requests for the little tin of polish became associated with Anzac troops, especially New Zealanders, and somehow we've been Kiwis ever since.
Although not life and death any more, keeping your boots in good working order is still important. Anybody who has spent time working in the mud during winter will attest to the misery of having wet feet all day. Even worse is pulling on wet boots from the day before.
Shoe maintenance has now moved well beyond a simple tin of polish, and with each new pair we buy for our kids some new cleaning method, tool or product is required. All these items need to be kept somewhere rather than just stuffed under the sink. So an old-fashioned shoe cleaning box seems like a good idea.
Of course Bunnings sells loads of different boxes, but with our national identity being so interwoven with clean boots and this being a time of remembrance, I thought a little boot memorial might be in order. For this project instead of nursing the timber carefully through the process to achieve a nice, new finish I've done quite the opposite. I want my box to look as old as possible. I've beaten the wood with a variety of tools including heavy drill bits, files, chain links and a meat cleaver and cut small grooves in the surface with a craft knife.
I decorated the box by painting symbols that reminded me of home, then sanded them back and finally gave the whole thing a good shellacking and a polish. And there you have it, one brand new, made-in-a-day antique box. Now instead of just once a year, I can say thanks every time I clean my boots .
Step 1
For the handle, soak a length (1m should be enough) of natural fibre rope in strong tea overnight.
Step 2
Measure and cut out pieces of timber. I used lengths of rimu but pine will do and you can do some interesting things with wood dye (ask the troops at Bunnings).
Step 3
Clamp and glue, or tape the pieces together then drill dowel holes to join the bottom and sides. Pour glue into the hole then tap in the dowel. The dowel should fit tightly but if it's too tight you could split the wood, so be careful. My hole is half a millimetre smaller than the dowel.
Step 4
Once the glue is dry, tidy up any spills or dribbles and beat the box using a variety of objects, then cut in a few small grooves with a craft knife.
Step 5
If you are using pine, stain the timber. Otherwise, paint your box with letters or symbols then sand them back using fine sandpaper.
Step 6
Shellac the box, let it dry then rub it down with some 000 steel wool. Repeat two or three times.
Step 7
Polish the box using an antique furniture polish. Make sure you get lots of polish into the dents and file marks so they stand out.
Step 8
Attach latches, hinges and the rope handle.