Paintball is no longer just for stag and work parties, it's a sport in its own right. Danielle Wright visits Auckland's newest paintball venue to see the difference.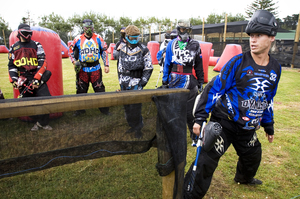 As we pull up outside Lock 'n' Load Paintball, there's a shipping container out the front with the word "Killer" in red paint alongside images of helicopters, guns and a gritty urban scene.
The clubhouse itself is painted in camouflage pattern and the fields are filled with themed sets - there's the graveyard, the Wild West, a city scene with a bus and train to hide behind, as well as a field with a UFO crash landing pad.
It's everything you expect. However, the mild-mannered men dressing up in combat fatigues shooting their mates for fun are not.
"For me, it's the opportunity to interact with different people and see how everyone problem-solves to achieve a goal," says Anton Glassie, a prefect at Onehunga High School who has been playing socially since he was a little boy and in the sports league for the last three months. "There's lots of team work and communications involved."
Garth Turfrew, the oldest player in his team at 40, says he has introduced some of his dyslexic high school students to the sport in a team called "Fresh Meat".
"Even though it's about shooting people, afterwards they give you a hug and say sorry. I don't want to sound funny, but there's a fair amount of man love in the sport," says Turfrew.
A new recruit, Adam Brakey, has already competed in two tournaments after being encouraged by university friends. He likes the adrenalin and says it doesn't compare to anything else he has tried.
Around the world, paintball as a sport is growing. From India to England, the US to Malaysia, tournaments are attracting a global audience. At New York Fashion Week, Levi's even had a paintball installation to highlight its brand's expression through colour.
It is thought to have been created in the late 70s when two friends in New Hampshire used forestry service pellets made for marking trees and cattle in a game of survival in the woods.
In New Zealand, paintball still has a long way to go in order to change the perception of it as a team building or stag-do event rather than a sport involving skill, strategy and strength. The opening of Lock 'n' Load, a serious sports location attracting global talent to tournaments, will help.
As a competitive sport, paintballing is played in teams of 3-7, with five-a-side being the norm in most leagues.
Both teams start on opposite sides of a playing field. There's a flag in the middle and the aim is to shoot the other team, pull the flag and hang it in the opposition's side.
"It's a good workout," says Michael Earley, who went to a tournament in Malaysia last year, which hosted 166 teams from 33 countries.
"Five years ago paintballing was borderline illegal in Malaysia, now it's a fast-growing sport with many women participating alongside the men," says Earley, who noticed Halal paintballs at the tournament.
At our feet are discarded paintballs. If you step on one it shoots out watery paint, apparently edible and covered in the same biodegradable materials as vitamin pills, so there's no need to clean the mess up afterwards.
Paintball masks are worn for protection and tournament competitors have "pods" around their lower back for easy re-loading - between 42-1000 paintballs are shot in a tournament game of around 5-10 minutes.
Anton Klimenko, from a team named "ADHD" says the "spirit of sportsmanship" is what he most likes about the sport. "We shoot each other on the field but are all friends on Facebook."
While I didn't see any women training on the night, I'm told there are all-female teams around and many teams are unisex.
"There's no reason why women can't compete - it's not full contact," says Earley, who says the wives and girlfriends of the players I met don't mind their men fighting it out after work, apart from the bruising.
Looking at the glint in the eyes of the players I met, it's likely their enthusiasm will go a long way towards changing perceptions and growing the sport in New Zealand.
A whistle blows and the sound of gunfire can be heard as I leave them, all fired up, for their next shootout.
The sport of survival
To join the sport, sign up to a club such as the South Auckland Paintball Club, which offers free membership, but, you'll need your own gear. At Lock 'n' Load there are two club days per month, including one tournament. Thursday nights are practice nights and members are given reduced rates to play. It's located at 46 Nixon Rd, Auckland Airport. Ph: (09) 257 2265 or visit locknloadpaintball.co.nz for more information.