Multi-talented director, choreographer and illustrator Carla Martell shares her passion for vintage collectables.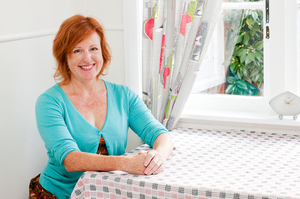 Director, choreographer and illustrator, Carla Martell is a major collector too, of vintage fabrics, Cornishware, wicker baskets and vintage children's books. She is also currently co-directing, with Sam Scott, the Massive Company's theatre production of The Brave. Featuring costumes by Huffer, the play marks the theatre company's 20th year, and will feature true confessions and "raw athleticism", no doubt helped in part by Martell's dance background.
Having worked as the creative director of Trash to Fashion for nine years, been the stage director of Christmas in the Park, and choreographer for the film Laundry Warrior with Geoffrey Rush, Martell's personal creative projects include illustration and selling pieces - from postage stamps to aprons, T-shirts to pillows - at scruff.co.nz. She tells us about her 10 favourite things.
TEN FAVOURITE THINGS
1. Danish coffee jug
This was part of a dinner set given as a wedding present to my parents in the late 1950s. I love its elegant curvy lines and very fine white china, and I'm terrified of breaking it.
2. Nanny's basket
Another piece of my family history, this beautifully woven wicker basket (which I carry my rehearsal things in) belonged to my French great-grandmother Noelie, who in 1917 sailed on the S.S. Rimutaka from Durban, South Africa to New Zealand. My great-grandfather had bought a scrubby piece of land in Flat Bush to start a farm, spending a lot of his time burning piles of gorse at night and thereby starting rumours that he was actually a German spy signalling to his comrades.
3. Print Gocco
Print Gocco is a Japanese colour screenprinting system developed in 1977 and sadly discontinued in 2005. I was very excited to hear that it would make screenprinting easy, quick and even, magically, clean. The "clean" bit never really happened - I still always manage to get grubby fingerprints all over my artwork - but it's a great little system for handprinting cards and small fabric designs. It's still possible to buy the Gocco and supplies online, and there's even a Save the Gocco campaign.
4. Illustrated children's books
Always inspired by old favourites: Little Golden Books, Maurice Sendak, Richard Scarry, Dr Seuss. New favourites include Oliver Jeffers, Neal Layton, Bruce Ingman, Julia Donaldson and Axel Scheffler, of Gruffalo fame.
5. My (borrowed) house
This house is an old-fashioned New Zealand state house, probably built in the 1930s. When we moved in, it was like a relic from a bad corner of 1969 - floral wallpaper, mustard-coloured paintwork (to match the dark brown ceilings), and most importantly, the awful but marvellous swirly carpet running through the hallway right through to the living room. It has a giant green quarter acre section with a little ivy-covered shed, the best lemon tree in the world, and a mysterious unseen neighbour who plays piano concertos every evening at teatime. Sadly, our house has just been sold and will now probably disappear under a row of grey townhouses and concrete driveways.
6. Cornishware
This is my very small collection of blue and white striped Cornishware which I've built up one piece at a time from opshops and markets. It was first produced in England in the 1920s and is still being made, but some pieces are highly sought after, like the vintage named jars. Very rare, for example: Apricots, Borax, Curry, Dripping, Herbs, Lard, Margarine, Marjoram, Pimento Seeds, Table Salt and Washing Soda. I love the fat little egg cup, and the big jug is now in charge of a basil plant.
7. Luis
My favourite boy is 7 and a bit, knows all the words to every song by One Direction and thankfully still thinks it's funny to wear underpants on his head.
8. Pt Chevalier Beach
One of my very favourite places, especially on summer evenings when the tide is coming in. We eat fish and chips and sit under the same tree every time. The beach has a colourful and romantic history. There was once a dance hall called the Dixieland Cabaret, which opened in 1925 and burned down 10 years later. As well as a band and dancing, it had a skittle alley, bathing room facilities and special floodlights installed for night swimming to the two rafts anchored a hundred yards away from the shore.
9. My Singer sewing machine
My trusty old Singer sewing machine, operated by a knee lever. It doesn't do anything except stitch forwards, but that's probably just as well for someone who can only sew cushion covers. I recently discovered a secret compartment under the machine, containing the original manual. It's a Singer 99K, made in Clydebrook, Scotland, in 1948.
10. Patterns
I love patterns, especially on vintage fabric (cocktail glasses and planes are some of my favourites). I also like making them. This monsters pattern came from one of my hand-drawn doodles, the kind I was always in trouble at school for desecrating my books with. This pattern is on a few different things including a canvas, a fridge magnet, and a children's T-shirt.
The Brave, at Q Theatre until April 22, and Mangere Arts Centre, April 24-29. Tickets, from $20, can be bought from here.
* Check out Viva's brand new Facebook page, the place to find out what's hot in fashion, beauty, food, wine and design.