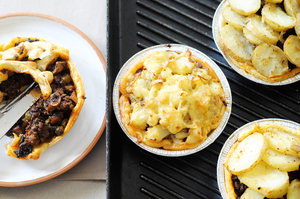 The aim here is to make your mince filling as tasty as possible.
Makes 6
6 medium potatoes cooked whole, until just tender
500g of best beef mince
1 medium onion and 2 medium carrots, finely diced
20 button mushrooms, cut in quarters
1 cup frozen peas
1 cup beef stock
tomato and soy sauce
Puff or shortcrust pastry (thawed, if using frozen ), 2-3 sheets
1 Saute the onion and carrots in a little oil or butter till tender. You could also add finely diced leek or celery.
2 Add the mince and fry till the meat has coloured.
3 Add the mushrooms and cook a little more.
4 Mix the beef stock with ½ cup of tomato sauce or tomato juice or tomato puree. The sauce will give a sharper taste.
5 Pour this over the mince. Add ¼ cup of soy sauce and simmer the mix to reduce the liquids.
6 When the ingredients have stopped "swimming", add the peas and thicken with a tablespoon of flour or cornflour mixed with cold water to a smooth paste. The mix should be well bound.
7 Cook a little longer and season well with salt and pepper.
8 Cool the mix before using (never put a hot filling into a pastry case, it will ruin the chance of the pastry cooking well).
9 Line individual or one large pie tin with your pastry.
10 Cut the potatoes into slices and toss these in a little oil or melted butter. Season well.
11 Fill your pastry case with the savoury mince and either arrange the potato slices across the pie or "smash" the slices with a fork to top the filling.
12 Brush some beaten egg over the potato.
13 Cook in a medium oven (on fan bake if you have it) until the pastry base is cooked and the potato top golden. It is important when cooking pastry that the oven is at temperature when you put your dish in. Have an oven tray on the middle shelf and put the pie on to this preheated tray for an immediate even heat to the pastry base.
14 When you think the pie is cooked, carefully check the pastry base by using a table knife to gently lift one edge of the pie from the tin to look at the base. If the pastry needs more cooking, cover the pie with some baking paper to protect the top and return to the bottom rack of the oven to finish.