Herald on Sunday Rating: 4/5
Address: 73 Davis Cres, Newmarket
Ph: 09 529 4422
Website: tatsumi.co.nz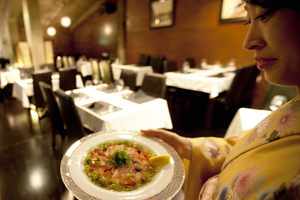 Loyal regulars had mentioned to me that Cafe Rikka in Newmarket had gone badly off the boil. Then I heard it had closed. These two things may not be unrelated.
I had meant to check it out - I sometimes go to restaurants that I have been warned to avoid so I can pass the warning on - but there has been so much new eating in Auckland this year that there always seemed to be a more urgent priority.
Now the premises, in that pedestrian promenade at the bottom of Khyber Pass where dining options are notable for being plentiful rather than good, have been taken over by refugees from the south.
Yoko and Koichi Kigami traded under the same name in Christchurch, in the heart of what is now the red zone. Unable to reopen, they decided to cut their losses. In a huge leap of faith, they transplanted their operation to Auckland where, as they remark somewhat fearfully on their website, "there are so many more Japanese restaurants than in Christchurch".
Their fear is that they will struggle to make a dent in a crowded market, but they should rest easy. In terms of originality, the food at Tatsumi is not quite up there with Gion in Parnell (re-opening at the end of the month) or Industry Zen. But the entire experience is so beautifully contrived that it makes the soul sing along with the tastebuds.
From the hot towels, delivered on arrival on a handsome curved bamboo tray, through the basket of unmatched sake cups from which you are invited to choose your own, to the Minties tucked into the little folder in which they bring you your bill, Tatsumi is full of delightful surprises. Most of them are on the menu.
Auckland is full of Japanese eateries and it's interesting that you never come across a seriously crappy one. We all have our favourites, of course, and some are definitely a cut above the average, but although I've eaten dreadful Thai, Chinese, Mexican and Indian food, I can't remember having a really bad Japanese meal.
Yoko and Koichi's strategy for standing out from the crowd is to serve Japanese food that pays due respect to tradition but welcomes influences from elsewhere. So the soft-shell crab is done in tempura batter but flecked with cajun spices and presented in a tortilla cup; the teriyaki chicken is served with haloumi, that deliciously grillable semi-soft cheese of Greek Cypriot origin; the beef fillet comes with chunky polenta chips; the salmon with a single silky blue-cheese tortellino.
I refuse to call this fusion because, as I've written before, I don't think there is a restaurant dish that does not fuse influences from all over the place. But I am happy to call it damn good.
I've no idea what Rikka's interior looked like, but Tatsumi's is a long and restfully dark room of concrete and wood panelling with prints - including the obligatory Hokusai cresting wave on the wall - and those lovely split half-curtains called noren in all the doorways. The atmosphere is very relaxed - Koichi and the other chefs in the open kitchen seem to go about their work in complete silence.
What emerges from that kitchen is for the most part delivered by Yoko (resplendent in a gorgeous kimono), who explains each dish in detail before leaving you to it.
Tatsumi has a decent sashimi and sushi selection at appetising prices and main courses range from $26 to $33. We chose the degustation menu at $80 a head which, usefully for a dining duo, offers two choices at each stage. After an amuse bouche of miso-infused duck breast, we shared an appetiser platter including cold-baked salmon with creamy horseradish; Bloody Mary oyster shots; crunchy crisps of lotus root; and prawn sashimi crowned with the animals' extravagantly spiky exoskeletons.
The few dishes I haven't mentioned above are precisely described on the website, but the real surprise of the evening to me was the dessert: a black sesame creme brulee and a green tea "fondant" - which was like a moist muffin - gave the lie to my prejudice that desserts are to be avoided in Asian restaurants.
Cantabrians may be viewed with suspicion in Auckland because they usually come here and win rugby games, but these imports are welcome additions to the local dining scene. They deserve to prosper.
Need to know
Value: $$
$ = $20-$40; $$ = 40-60; $$$ = $60+.
(Price guide reflects three courses for one person without drinks.)
Also try
Basque Kitchen (for excellent tapas) and Market Kitchen and Bar are standouts.