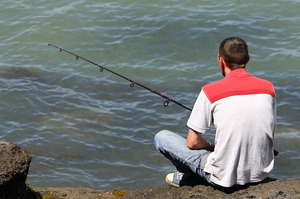 You don't have to resort to fast food joints to fill up the kids during their Easter school break.
1. A wharf, a rod, some bait
All around Auckland there are tiny wharves or rocky coves where you can throw a rod over the side and try your luck for a fish or two. The upper harbour (try Birkenhead Wharf) has been teeming with snapper lately. You may need to budget for a stop at the chip shop if success eludes you.
2. Street eats
Gather some shopping bags and the kids and comb your suburban streets for neglected fruit trees on kerbs just begging to be picked. Feijoas, apples, pears, figs, crab apples and guavas are all in season now. If you have friendly neighbours with un-picked trees, offer to swap fruit for the jams or chutneys you make with the pickings.
3. Weed eaters
For the braver tastes, forage highly nutritious weeds for salads or stir fries (wash well, don't pick any beside polluting roads and don't eat anything you can't positively identify). Younger leaves are better - look for dandelions, watercress, wild mint or borage. Check out chef Michael Daly's new foraging guide Find It Eat It (New Holland Publishers, $39.99).
4. Pantry forage
Take a leaf out of MasterChef and challenge the kids to create a meal based only on what they can find in the pantry shelves - no new shopping allowed. Good practise for their future flatting days. Check Kiwi teen chef Claire Gourley's itsmyturntocooktonight.com for ideas.