Love & Money by Greg McGee
Penguin $29.99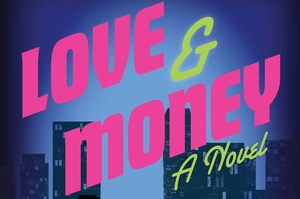 I'm tired of the endless jetstream of historical fiction that is the current fashion in New Zealand literature. I don't wish to see another local novel set in 1886 or thereabouts, again. What is wrong with writing about now? It's as if the effort of researching and rummaging through our history has become the focal point of novelists. Perhaps they're too fearful to rely on their own observations and insights.
However, Auckland's Greg McGee has selected a particularly interesting year in which to set the first novel written under his own name (he has previously penned award-winning crime fiction under the pseudonym Alix Bosco). The year 1987 provides a colourfully heady and resonant backdrop for Love & Money. A sensationally turbulent year in New Zealand, it was an election year, there was a Rugby World Cup and a boomtime gave way to an immense recession, activated by the devastating New Zealand stock market crash following Black Monday.
An out-of-work actor, Mike is a gormless buffoon who is turfed out by his glossy and ambitious girlfriend Louise, a corporate secretary who hooks up with her colleague, Alex, a successful and slick but vacuous husk.
Mike's "ineptitude at improvisation" sees him drift about, revisiting former flames who are sentimentally fond of but frustrated by the hapless wanderer. Mike creates mayhem wherever he goes.
These set pieces with an ensemble cast give the novel a crisply formulated restorative three-act narrative script sort of feel, which is no surprise given McGee's playwriting background. I can easily envision this as a light comic film.
I missed McGee's staunchness and fearlessly clear-sighted observation, something clearly seen in his brilliant 1980 play, Foreskin's Lament, an important and subversive social critique of the organised violence of rugby culture. But to be fair, this shows he can confidently turn his hand to any genre, be it sharp plays, crime or comic fiction.
The most striking and engaging thing about Love & Money is how its New Zealand unsettlingly resembles the country today. McGee punctuates this with some terrific characterisation and dialogue as well as nice satirical flourishes, but I felt hungry for a little more bite and weight. Perhaps he could have pushed the transformational (in terms of the political, social and economic climate) themes a bit further.
Love & Money is lighthearted and lightweight.