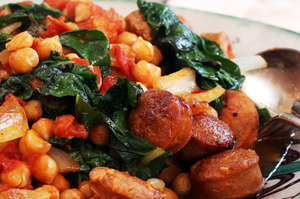 Serves 6
1 Fry off 2 sliced chorizo sausages in olive oil. Remove and put into a large bowl.
2 In the same pan, cook off a thinly sliced medium onion until soft.
3 Keeping the heat low, add 2 cloves of crushed garlic and soften, then add 2 cans of diced tomatoes, 2 cans of drained chickpeas, 1 teaspoon of mixed dried herbs, 1 teaspoon of paprika, and 6 shredded leaves of silverbeet (stalks removed).
4 Return the chorizo to the pan, season with salt, pepper and a good pinch of sugar.
5 Once the silverbeet has wilted down, put back into the bowl and serve with crusty bread.
Recipe sourced from taste.com.au. This site has a bunch of other good silverbeet recipes to try.