Masterchef 2011 winner Nadia Lim will be online for a live chat on Friday, April 13th, from 11.45-12.45pm. Join us then or email your questions in early here.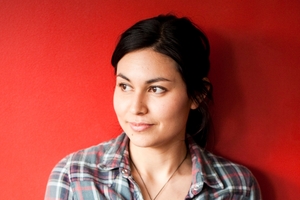 From the age of 12, Nadia Lim wanted to write a cookbook. Back then last year's MasterChef NZ winner was toying with Food in the Nude - a Jamie Oliver inspired title that displayed fresh food, cooked well, without too much jazzing up.
"I probably imagined doing it when I was retired so it's come a lot sooner, which is pretty amazing," said Lim, whose debut cookbook, Nadia's Kitchen, has just been released.
"I don't actually know what I envisaged, but I always had this thing about Food in the Nude... it stuck with me the whole way through.
"In all my year books, under that section where it says where will you be in ten years time, I always wrote I'll have a cook book and a cooking show called Food in the Nude."
NZ's second series of MasterChef wrapped up about 16 months ago, and Lim has spend the last four months compiling the book. She's split up the colourful culinary book in to seasons, but this isn't because she has "green fingers".
"It just makes sense to eat in season. It's cheaper, it tastes far better, it just makes sense that way," she said.
Before becoming a household name thanks to her MasterChef title, Lim studied nutrition down at Otago - but this hasn't had any affect on the way she cooks.
"Everyone always thinks it's a bit of a conflict when you're trying to be healthy but eat tasty food as well. But no way. It's so simple," she said.
""The utmost priority is how something tastes. And the utmost priority is that we really enjoy our food. You can have everything and anything - have everything in moderation, including moderation.
"There's nothing wrong with chocolate cake and pork belly and fatty roast duck. Absolutely nothing wrong with it at all and I would encourage people to actually have those foods and really enjoying them.
"But it's all about looking at the bigger picture when you're eating. How often are you having it? How big is the portion size? Are you having a side of vegetables with it?
"Eating well is really all about enjoying your food. Nowdays, the more nutrition information that goes out there the more confused and misguided people get. We need to go back to basics. And it's simple things, like eating your colours."
She dedicated the book to her parents and says her enviable palate is thanks to a combination of her early years growing up in Malaysia - with flavours like lemongrass, kaffir lime, ketchup manus and oyster sauce - and a Kiwi classic taste, which she said is the freshest produce on the planet.

* Nadia Lim has picked out a couple of her favourite recipes that are quick, easy and in season for you to try at home: Pineapple with basil lime sugar and Mushroom and feta tarts with herb oil.
Nadia's Kitchen, published by Random House, is available now. RRP $55
Follow Life & Style Editor Nicky Park on Twitter