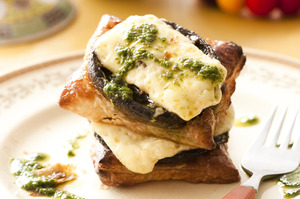 These rustic mushroom tarts are full of flavour but require little effort. They make a perfect entrée or light lunch served with a leafy green salad.
Serves 4
2 tablespoons balsamic vinegar
2 tablespoons olive oil
½ tablespoon runny honey
pinch of brown sugar
2 garlic cloves, minced
1 sprig rosemary, stalk removed and leaves very finely chopped
8 portobello mushrooms, stalks removed
1 sheet puff pastry, thawed
1 egg, lightly beaten
8 thin slices of goat or cow feta cheese
¼ cup Lemon and Herb Oil (see
page 245)
1 Preheat oven to 220°C.
2 Mix balsamic vinegar, olive oil, honey, brown sugar, garlic and chopped rosemary together.
3 Wipe any dirt off mushrooms with a paper towel (avoid washing mushrooms) and place mushrooms, gill side up, in an ovenproof dish and spoon over marinade.
4 Cut pastry into nine squares (approximately 7cm x 7cm) and roll out slightly with a wine bottle or rolling pin to make them a little wider and thinner. Place on a baking tray. (You can use the one leftover pastry square to make a little jam tart.) Brush pastry with beaten egg.
5 Bake both mushrooms and pastry in oven for 10-12 minutes or until pastry is puffed and golden, and mushrooms are cooked. Remove pastry from oven. Switch the oven to grill, top mushrooms with slices of feta and return to oven until feta is bubbly and golden, 2-3 minutes.
6 To assemble, gently push each cooked pastry square down with a fork to flatten slightly (they will be very puffy, just like cushions). Place a pastry square on a plate, and top with a mushroom and feta cheese, top with another pastry square and another mushroom with feta cheese. Drizzle plate with herb oil.