Easter spells chocolate for many and Auckland offers something for everyone, writes Alexia Santamaria.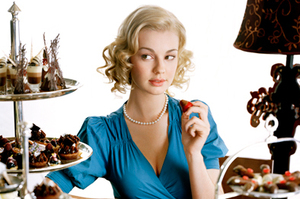 Back in the sixth century, when the Mayans were playing around with their cocoa bean drinks, they could never have known how their invention would bring joy to millions all over the world for years to come.
Though the message is we need to eat less sugar, there is still nothing that can make a bad day better than a square (or five) of good quality chocolate.
And never is the focus on this food of the gods so strong as at Easter, so here's a rundown of some of the best places to get a chocolate hit in Auckland, whether it be solid, liquid, hot, cold or mixed with alcohol.
CHOCOLATE DRINKS
If you like your chocolate in liquid form there are a few spots to indulge this desire. The Chocolate Boutique has an amazing menu of chocolate drinks including their signature Italian Denso, which has 36 ingredients and comes in double chocolate, Mexican spice or chilli. Theobroma Chocolate Lounge has brought an array of hot and cold chocolate drinks to local malls and it's quite common to see groups of people sipping from cups that sit atop custom-made burners, designed to keep the chocolate hot.
You can also buy chocolate products from both these places. If a full cup is too much, Il Buco in Ponsonby has a reputation for its espresso-sized dark chocolate shots. With 70 per cent cocoa solids, this little cutie packs a short, sweet hit.
Chocolate Boutique: 323 Parnell Rd, Parnell.
Theobroma Chocolate Lounges: Sylvia Park Shopping Centre, St Lukes Shopping Centre, Botany Town Centre.
Il Buco: 113 Ponsonby Rd, Ponsonby.
CHOCOLATE SHOPS
Of course, there are plenty of places to indulge in chocolate the old-fashioned way. There are a range of chocolate shops around Auckland where you can buy single chocolates for a personal treat or boxed gifts if you're feeling generous.
The newest of these is Colestown Chocolates in Newmarket which opened last month. Sally Meikle is passionate about chocolate and has been in the food industry for more than 20 years.
If French chocolates are your thing, try Philippe's in Great North Rd. And there are always the well-known Auckland choc-spots, Chocolate Boutique and Devonport Chocolates. In fact, the Shore is particularly well-serviced for chocolate shops, with House of Chocolate in Beach Haven and Chocolate Earth in Browns Bay, too.
If you're heading out of town for Easter weekend, a stop at Bennetts of Mangawhai or Makana in Kerikeri is never an arduous diversion.
Colestown Chocolates: 277 Broadway, Newmarket.
Philippe's: 293/295 Great North Rd, Grey Lynn.
Chocolate Boutique: 323 Parnell Rd, Parnell.
Devonport Chocolates: 17 Wynyard St, Devonport; 177b Ponsonby Rd, Ponsonby; 34-40 Queen St, CBD.
House of Chocolate: 13-19 Sunnyhaven Ave, Beach Haven.
Chocolate Earth: 46 Clyde Rd, Browns Bay.
Bennetts of Mangawhai: 52 Moir St, Mangawhai.
Makana: 504 Kerikeri Rd, Kerikeri.
CHOCOLATE ICECREAM
Hot or cold weather, it's always a good time to eat chocolate icecream.
Our picks are the Kohu Road Creamery in New Lynn for milk or dark icecream and chocolate sorbet or Giapo's in the city for their chocolate brownie or chocolate whisky Laphroaig flavours.
Kohu Road Creamery and Cafe: 44 Portage Rd, New Lynn, Auckland.
Giapo: Next to the Civic at 279 Queen St, CBD.
CHOCOLATE COCKTAILS
If it's a more fortifying fix you're after, head to Suite Bar, where you can get a chocolate martini, a chocolate espresso martini, a 20th Century (gin, lime, cointreau and white chocolate liqueur) or a tequila old-fashioned, with chocolate bitters. If none of those suit you, tell the bartender what particular cacao hit you're looking for and they'll whip something up. If you order the chocolate martini, keep an eye out for the nod to molecular gastronomy with the mint choc caviar in the bottom of the glass.
Suite Bar: Basement, 2 Hobson St, CBD.
CHOCOLATE CLASSES
Once you've become an accomplished chocolate consumer, it's quite nice to learn a bit about making them yourself.
Take some tips from the masters at Maincourse, where they run a three-hour class or try Criollo chocolates in Henderson. Bjorn, who owns Criollo, is originally a Swedish pastry chef who moved into chocolate 12 years ago and had his own chocolate shop in Sweden before moving here.
He runs a hands-on class as well as a chocolate appreciation evening, where participants learn about the history and process of chocolate-making as well as sampling a killer hot chocolate and a dessert, plus all types of pure chocolate. If you get a chance, try his salted caramel chocolate or marc de champagne - grown-up chocolate heaven.
Maincourse: 20 Beaumont St, Freemans Bay.
Criollo: 3/70 Bruce Maclaren Rd, Henderson.
CHOCOLATE CAKE
It's nice to mix up the texture of your chocolate indulgence and we've always been fans of Rocket Kitchen's chocolate whiskey cake in that department. We're also quite partial to the chocolate truffle cake at Swiss Konditorei Bern and newcomers Vaniye do the most amazing chocolate tart ever. It's called the midnight guanaja and has a chocolate sweet-crust shell with 70 per cent Valrhona chocolate filling and a thin hidden layer of vanilla creme brule. Their chocolat-noisette cake is also incredible. Watch out for their new shop in Parnell.
Rocket Kitchen: 234a Ponsonby Rd, Ponsonby.
Swiss Konditorei Bern: 5/448 Rosebank Rd, Avondale.
Vaniye: Shop opening April/May in Parnell but online orders possible until then.
CHOCOLATE FOUNTAINS
After attempting to make it through the other seven stations at Eight at the Langham, you'll come to the dessert area with its chocolate fountain. The flavour varies from week to week and you can coat fresh and dried fruit and home-made marshmallows until you can eat no more.
You'll also find one this weekend at the Stamford Plaza's chocolate high tea (there will be eggs for children there too).
The Langham Hotel: 83 Symonds St, CBD.
The Stamford Plaza: 22-26 Albert St, CBD.
FOR THE KIDS
For chocolate fun for children this weekend, head out to the Amazing Maze 'n Maize at Karaka, where they are having an Easter egg hunt. Eggs will be hidden from 11am-2pm, Friday to Monday.
Amazing Maze 'n Maize: 833 Kingseat Rd, Karaka.