Joanna Mathers investigates a form of equine training that makes horse sense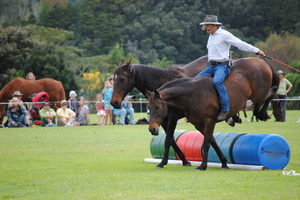 In an arena nestled between rolling emerald hills, two horses are weaving between orange cones. Left and right, left and right they turn, before circling 360 degrees at the final mark and making their way back down the course. Their handlers (mother and daughter Wendy and Annika), jog beside them on foot, guiding them with barely perceptible movements. Watched over by instructor Russell Higgins, horses and handlers are calm, purposeful and happy in their task.
This is the Parelli Method in action. Devised by American Pat Parelli, this method of natural horsemanship is a huge departure from traditional horse training. "Rather than trying to bend them to human's will, Parelli teaches people how to understand the innate language of the horse," says Russell.
Based in Waikato, Russell is a four-star Parelli instructor who studied under Pat Parelli in Colorado in the early 2000s. He teaches workshops around New Zealand and internationally - today's course is being held in Muriwai, but he's taught as far afield as Dubai. Wendy and Annika are having a private lesson today, and I've been invited to watch.
From where I'm sitting, it looks pretty impressive. From the ground Wendy and Annika move their horses (Jimmy and Ngamuiti) backwards and forwards, side to side and diagonally forwards using the lightest touch of hand and stick, and the slightest movement of body. Russell explains and demonstrates each manoeuvre first, then it's up to Wendy and Annika. There are a couple of false starts, but horse and owner both progress rapidly; and it's a real team effort.
Wendy, Annika and horses have been training with Russell for some time now. Both riders were taught in the traditional method, and both were having problems with their horses. When Wendy heard about Russell from a friend, she jumped at the chance to try something new.
"Jimmy had been a bit of a wreck," says Wendy. "He'd been used as a showjumper, and had been given harder and harder bits. He would be constantly battling against them. They had actually damaged a bone at the top of his head. And Ngamu was terrified of the float."
The Parelli Method has changed both horses and riders for the better. "Jimmy is a different horse. He's calm and happy. And Ngamu has come a long way with the float."
The foundation of the Parelli philosophy sounds simple enough - horses are prey animals, and humans are the predators. "We try to make horses fit into the human world, when we should be trying to engage in their level," says Russell.
He elaborates: "Horses have everything they need to thrive in their natural environment - it's when humans are thrown into the mix that problems start occurring. So the best way to engage with a horse is to learn to 'speak' their language and learn to understand the world from their point of view. You need to understand your horse's horseanality [the horse equivalent of personality] and work with their strengths and weaknesses."
The Parelli Method has garnered followers worldwide. Practitioners come from all equestrian disciplines; Western, eventing, show jumping, dressage; but all share dissatisfaction with the disciplinarian style of traditional training, and a desire to forge a deeper relationship with their horses.
There has been some resistance to the method, with claims the cost of the products, courses and teaching materials is too high. But those who follow it say that the quality of teaching justifies the expense.
Watching Wendy, Annika, Jimmy and Ngamuiti, it's easy to see why the Parelli fan base continues to grow. Relaxed horses, happy owners - what more could you want from your equestrian experience?
Courses for horses
* There are currently seven licensed Parelli instructors operating in New Zealand. The Parelli Method isn't just for problem horses; any horse and rider will benefit from learning the techniques.
* You can find your nearest instructor though the website, www.parelli.com
* Russell Higgins runs regular Parelli courses for horses and riders of all levels, with one-day and longer camps. For more information, see his website russellhiggins.co.nz
Northland Natural Horsemanship Games
Easter Sunday April 8 from 9.30am Barge Showgrounds, Whangarei
* Inspiring, challenging, educational and entertaining fun with horses. Last year more than 35 contestants competed in front of over a thousand spectators.