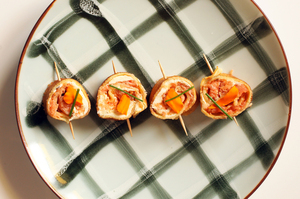 Pancakes can be used at the other end of the day by making a finer version. Simply thin the batter.
1 Mix cream cheese, lemon juice and lemon zest and, if you have it, some snips of preserved lemon.
2 Mould this along the centre of your pancake. Top with smoked salmon strips. You could also add a strip of cucumber. Roll as if you are making sushi.
3 Toothpick the cigar shaped result at intervals to indicate the portion size.
4 Trim the ends and cut into even pieces.
5 Arrange on your platter and garnish with a chive and marigold petal for a colour hit.
6 Keep cold until ready to serve.