Find more restaurant reviews with our Google map
Address: 93 Great South Rd, Greenlane
Ph: (09) 522 2233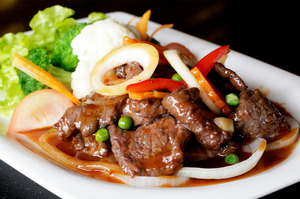 Grand. Once past the smallish reception and bar area, the space opens out into a big dining room, which could comfortably seat about 100 people at a guess. The main feature is an eye-catching chandelier of descending autumn leaves made from bronze, a truly beautiful thing. The dark wood tables and chairs are set off by light coloured walls bearing metal images of Thai letters and words, unusual and graceful. Linen tablecloths and good quality china indicate that De Grand is boxing above its weight.
The proof of that is of course in the food. The menu is extensive and makes a deal out of fresh ingredients and separate listings for the meat-averse.
The entrees arrived in good time and were generally well received. Lesley's money bags were a mile away from the usual offerings of wee bits of filling overwhelmed by huge wonton wrappers. De Grand's version is of a decent size and well-flavoured.
Brian was similarly impressed by his fish cakes, round and skewered rather than flat, and accompanied by a shot glass of a light and spicy dressing.
Bill was less excited by his chargrilled scallops,which shared kebab sticks with some rather overpowering pineapple. His spirits lifted with his main of red whiskey beef, thinly sliced and bathed in sauce.
The beef had been marinated in the whiskey, and the result was tender and slightly smoky.
Brian was similarly impressed with his Massaman curry of very tender lamb with coconut milk, kumara and a peanut component. Lesley enjoyed her crispy pork too, although to me it resembled little more than a crumbed schnitzel, cooked and sliced.
Things went rather awry with my duck larb. Made with chicken, it is one of my Thai favourites, so I had imagined a duck version would be a cut above. Not so, sadly - the sparse slices of duck breast were swamped with sweet chilli sauce with little evidence of lime juice or fresh chilli, and no sign of the toasted rice or mint that give larb its zing. I later wondered if I had been served the wrong dish, but the bill stated clearly that I had had larb. I won't order their version again.
The range of desserts depended heavily on an Italian influence, so we passed.
The service at De Grand is professional and prompt, and the staff are very fetching in their take on national costume. The attitude is detached, however, and the aim appears to be to get as many covers through as possible.
Rating out of 10
Food: 7
Service: 7
Value: 7
Ambience: 9

Our meal: $250.50 for three starters, four mains, four servings of rice, one bottle of wine plus one glass, and sundry beers.
Wine list: A comprehensive coverage of New Zealand varieties, with disappointingly few by the glass. There is, however, a good selection of beers.
Verdict: This is a slick, upmarket operation, where the food is slightly above the average Thai offerings available in other similar establishments. The service is prompt and polite but disengaged.