May's Writers and Readers Festival has a diverse lineup of international guests to tempt lovers of all genres, writes Linda Herrick.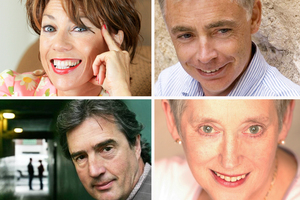 It's a dubious honour but one of the finalists in last year's Guardian Bad Sex Awards is heading to Auckland for the Writers & Readers Festival in May.
Irish novelist and poet Sebastian Barry, part of the international lineup announced this week, has been shortlisted twice for the Man Booker Prize (for A Long Long Way and The Secret Scripture) and longlisted for last year's On Canaan's Side. But those achievements will have to live alongside the Bad Sex accolade, which he earned for a paragraph from On Canaan's Side which starts: "We were lying side by side one Sunday morning" and ends with "and not a word needed to be spoken about it". A sentiment he might wish would come true ...
Barry will be joined by another high-profile Irish writer. Roddy Doyle, creator of the Barrytown trilogy The Commitments, The Snapper and The Van, which were all turned into hit movies, is a fierce and funny champion of working-class Dubliners.
His novel Paddy Clarke Ha Ha Ha, which won the 1993 Booker Prize, marks the time in the 1960s when Dublin was starting to experience the beginnings of its big boom, while his latest, Bull Fighting, returns to the life of Jimmy Rabbitte, band manager in The Commitments.
Also from Ireland: the puckish Eoin Colfer, creator of the delightful Artemis Fowl series, who writes for younger readers but has also reached a wider audience with engaging books like the sixth instalment in The Hitchhiker's Guide To The Galaxy series, And Another Thing ... and the New York Times best-seller, Airman.
Crime buffs will be well-served by the inclusion of British thriller writer Peter James, whose series starring Brighton-based Detective Superintendent Roy Grace all feature the word "dead" in the titles. Former MI5 boss Dame Stella Rimington, who has visited these shores before, will offer insights into her extraordinary career with the security service - during which time she made it more transparent - and her move to writing espionage thrillers featuring MI5 intelligence officer Liz Carlyle and her seemingly neverending fight against terrorism in Britain.
Former Economist Moscow correspondent A.D. Miller's debut novel last year, Snowdrops, is a gripping, frightening drama about a British lawyer in Moscow who falls in love as the Russian winter sets in. His world is clouded by the menace of oligarchs, corruption, violence and disappearances. "Snowdrop" is the Moscow slang for a corpse buried in the snow, revealed only when the thaw begins.
Terrible crimes also feature in British writer Caroline Moorehead's non-fiction history, A Train In Winter, based on true events, when 230 French female resistance fighters were deported to Auschwitz in 1943, with only 49 surviving. The book has been described as a harrowing read, but "fascinating and important" as it follows the inevitable processes of surveillance, imprisonment, torture, deportation, and atrocious cruelty.
American writer Jeffrey Eugenides won the 2002 Pulitzer Prize for fiction for his novel Middlesex, which portrayed Greek-American immigrants in a decaying Detroit, partly based on the experiences of his own grandparents.
He described the process of writing the book as a series of "omens" that he later discovered were exactly as events had happened to his forbears. Eugenides' earlier novel The Virgin Suicides was adapted into a film by Sofia Coppola in her directorial debut, while his latest, The Marriage Plot, was published last year.
British scribe Geoff Dyer should attract a great deal of interest when he appears at the festival. Described as "genre-defying", Dyer moves across fiction, travel writing and essays, with his novel Jeff In Venice, Death in Varanasi exploring the cliche of male mid-life crisis. He cannot be boxed in: his latest, Working The Room Essays was described by our reviewer as, "One can go within a few pages from regarding him as a fount of wisdom (when his opinions match yours) to thinking he's a pretentious phoney (when they don't)."
Dyer himself confesses to "a chronic, deep-down existential desire to do nothing". His output would suggest otherwise.
American novelist Jesmyn Ward, who grew up in DeLisle, Mississippi, experienced racism as a student which flared again when she and her family had to flee their home during Hurricane Katrina and were refused shelter by a family of white farmers. Traumatised by the hurricane and its aftermath, Ward stopped writing for three years and was about to start nursing studies when her first book, Where The Line Bleeds, was published. Her second novel, Salvage The Bones, won the 2011 National Book Award for Fiction.
There's a varied contingent of Australian writers coming to the festival, ranging from self-described "demented mother" and prolific wit Kathy Lette, to children's author "Emily Rodda" (real name Jennifer Rowe, the name she uses for her adult crime fiction), and the superb Charlotte Wood, whose novels The Submerged Cathedral, The Children and Pieces Of A Girl were highly praised, while last year's Animal People inspired a reviewer to call her "one of the most intelligent and compassionate novelists in Australia".
The festival's science and philosophy content is always stimulating and this year, Australian "anti-religious amateur biological theorist" Danny Vendramini will be here to challenge mainstream evolutionary beliefs and ask why "so many cultures have sagas in which catastrophic floods are meted out as God's retribution for bad behaviour".
Canadian-American physicist Lawrence Krauss, an advocate of "science scepticism", served on Barack Obama's presidential campaign science policy committee and has published hundreds of studies on cosmology and theoretical physics. His book The Physics Of Star Trek was a best-seller.
American Barbara Arrowsmith Young, who developed cognitive exercises to overcome her own extreme learning disabilities as a child, has continued in her adult life to develop verbal, mathematical and conceptual programmes to assist students with their own learning disabilities.
As the director of the Arrowsmith School and Programme, she will bring insights to teachers and parents facing similar challenges with their own students and children.
Journalist Michael Hastings should be a big attraction. His 2010 Rolling Stone profile called The Runaway General, of US army general Stanley McChrystal, then commander of Nato's security force in Afghanistan, created a huge storm because the general was openly critical of White House staff and strategy. The article led to McChrystal's sacking, while the Pentagon challenged Hastings' accuracy.
Hastings also covered the Iraq war for Newsweek from 2002-2008. His fiancee Andrea Parhamovich, who was working for the National Democratic Institute in Baghdad, was killed in 2007, a tragedy Hastings has written about in his book, I Lost My Love in Baghdad: A Modern War Story.
The festival lineup marks the debut of new artistic director Anne O'Brien; see the full list of international and New Zealand writers and booking details here.
Auckland Writers & Readers Festival: Aotea Centre, May 9-13.