Alana Hiddink tells Catherine Smith why she and her husband Geoff love living in one of Auckland's newest suburbs with their boys Ashton (8) and Harry (3 and a very important half).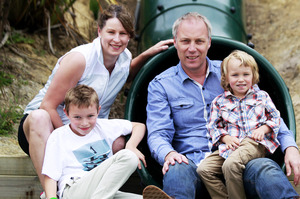 We bought a property here after three years in Cockle Bay, and before that in Tauranga and Titirangi. It's called Mission Heights. We loved that it was brand new, we saw it as a chance to start something new, be in the hub of a new community. I like new housing. When we first arrived we could see up Whitford Rd to the farms, but now the development has moved in - though there are still the lifestyle blocks. There is farmland for sale all around, but people are still friendly and wave and chat over the fence.
We love the Fo Guang Shan Temple, it is a favourite of ours for lunch, with its massive buddha and a great vegetarian food. I've never been to Asia, but this is good food, fresh ingredients and really family friendly.
We don't have any local shops yet - we've been told there'll be eight shops and a cafe on the Jeffs and Murphys Rd corner soon. But in the meantime, there's a cafe based inside Ormiston Hospital - I have found my new local until one is built in Mission Heights. Excellent coffee and service.
The school is the hub of the community, that and our Gateway faith-based community. The school runs from primary to junior college, it's a massive complex and now that the native plantings are all up, it's looking good. Harry goes to the newly opened kindergarten, we love it.
This area has gone from a predominantly farming community to about 35 per cent Indian and Asian - Japanese, Malaysian. So we get all the food, Harry comes home with henna painting on his hand, and we've embraced teachers from all over the world.
There are no athletics clubs yet - the Rongomai club will be opening soon on Te Irirangi Drive - but we border Barry Curtis Park. It's massive and really cool, we love it. It's fantastic and close to school.
To train for the half-marathon I can walk to Point View Reserve and the reservoir, so that's good. There are running tracks up to the water tower, cycleways, a playground and more cycle tracks through the green belt. It's so safe for kids.
Botany Downs shopping is only five minutes away, but we're also close to Whitford and we can go to Clevedon for the markets. Weekends for us are attending Gateway, taking the boys to Barry Curtis Park on the bikes or meeting up with friends. We have a very good Japanese restaurant, Taka, and my favourite spas for massage and beauty.
My latest project is for a community garden here - there are lots of elderly people around, and lots of business owners for sponsorship and seedlings. Stephanie Alexander from the Garden to Table project is my hero, I'm so impressed with what they're doing at East Tamaki Primary.
I think it's great for older people to be involved with the kids in a garden like that, it all makes us part of a community together.
Alana's picks:
* Barry Curtis Park, 201-203 Chapel Rd, Flat Bush (playground off Stancombe Rd). Surrounding the western part of Flat Bush's town centre, the park has received three awards in 2008 from the New Zealand Institute of Landscape Architects, and is already considered a regionally significant park.
* Le Classique Beauty Spa, 108b Jeffs Rd, Flat Bush, ph 021 527 437 or (09) 265 0013 and Cocoon Thai Spa, 2-166 Chapel Rd,ph (09) 274 9489.
* Club Physical Gym, 308 Te Irirangi Drive
* Nourish Cafe, 125 Ormiston Rd, Botany
* Taka Japanese Restaurant, Unit 2b, Bishop Browne Place (off Te Irirangi Drive), ph (09) 273 4234
* Fo Guang Shan Temple, (International Buddhist Trust of New Zealand) 16 Stancombe Rd, Manukau, ph (09) 274 4880