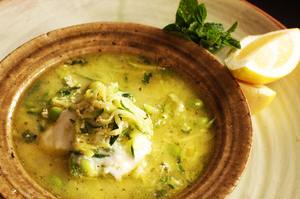 This was a bit of an experiment but it worked. I served it warm but it would also be good at room temperature. The mint and yoghurt makes for a very clean finish on the palette. Edamame beans seem to be a new wonder ingredient. They are immature soy beans and used a lot in Japanese cooking.You can buy them frozen as you would peas or broad beans. You could use frozen peas if you can't source the edamame beans, but hunt them out, I predict we will be seeing a lot more of them.
Serves 6
2 cups of chicken or vegetable stock
2 spring onions, finely sliced
3 courgettes, grated
1 cup of edamame beans (or peas), thawed
1 cup of natural yoghurt
a handful of mint leaves, shredded
lemon juice
1 Gently cook the spring onion in a little vegetable oil.
2 Add the grated courgettes and edamame beans and sweat for a moment or two.
3 Just cover with the stock. You may not need the whole amount, depending on the size of your courgettes.
4 Simmer until the courgettes are just cooked.
5 Add some of the mint and keeping the heat low, swirl in 2/3 of the yoghurt. It may look like it has "split" but this does not matter.
6 Season with a squeeze of lemon and salt and pepper to your taste.
7 Ladle into bowls and garnish with a blob of the remaining yoghurt and more shredded mint.