Grant Allen suggests using the last of the harvest in tasty soups.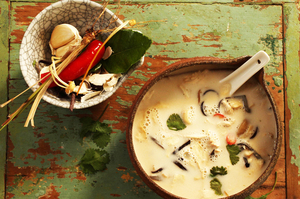 It may seem a little premature to be talking about soup, but as the season changes we do shift a gear in our thoughts of food. These soups are autumnal. They are light, fresh and soothing in texture. Use the late-summer harvest and add a suggestion of things to come.
Coconut and chicken broth
This soup has a lovely base that can be used with many different ingredients. In this case I've used chicken, but you could also use seafood, strips of white fish, slivers of fresh salmon or prawns. You could make it vegetarian (use vegetable stock) or make it more substantial by adding noodles or cooked rice.
Serves 6 as a starter
3 cups of good-quality chicken stock
3 cups coconut milk
Thumb-size piece of ginger peeled and slivered
2 stalks of lemon grass, bruised
2 red chillies, sliced
6 kaffir lime leaves
2 boneless, skinless chicken thighs, sliced very thinly
175g of mixed fresh Asian mushrooms (or the same of white button mushrooms, sliced thinly)
¼ cup fish sauce
¹?³ cup lime juice
2tbsp brown sugar
Handful chopped fresh coriander
1 Place the first 6 ingredients into a large saucepan, bring to the boil then reduce to a simmer for 5 minutes.
2 Add the mushrooms and chicken, cook a further 5 minutes. Check that the chicken strips are cooked through.
3 Add the fish sauce, lime juice and brown sugar and taste. Season if required.
4 Divide the broth between your bowls and garnish with chopped coriander.
* Grant Allen, a former restaurateur, runs an Auckland bespoke catering service called COOK. Visit Grant's Facebook page here.
What's your favourite soup? Do you have any other winter warmers you like to tuck in to?