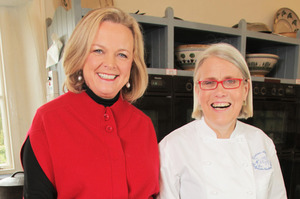 Australian food and wine personality Lyndey Milan shows us contemporary Irish food, with Lyndey Milan's Taste of Ireland debuting on Food TV, on now.
Here Lyndey shares four of her best Irish foodie finds with us:
1. Seafood coddle
The traditional warming Irish dish of pork sausages, potatoes and onions is half stew and half soup bubbled on the stove for days, with a bit of this and a bit of that added. Try adding prawns and mussels as well as fish; bacon, thyme and parsley are mandatory.
2. Guinness creme brulee
The Irish have mixed a national icon with the popular French dessert, using cream, eggs and Guinness. Serve with a "brandy" snap made with Irish whiskey.
3. Barmbrack
The traditional Irish tea cake, deceptively simple to make but tastes like a labour-intensive fruit cake. Soak dried fruit in cold tea overnight prior to cooking. Perfect with a cuppa
4. Black pudding with scallops
No Irish celebration is complete without black pudding. Try a more modern combination with scallops and a little apple relish for a delightful entree.