Irishman Eoghan O'Sullivan tells Elisabeth Easther why the central Auckland suburb is a grand place to live.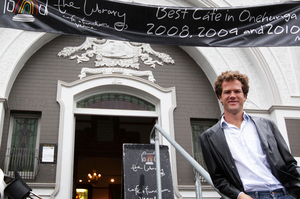 Onehunga is grand. For a start it's near One Tree Hill and Cornwall Park, and we're very near the sea. Although to be fair, Onehunga Beach isn't that flash yet, but they're looking to tart it up, so it's going to be lovely in the future. The area is also overrun with playgrounds. Jellicoe Park is probably the best - they have a massive park with a big playground and the swimming pool's there. It's mostly pedestrianised, so it's great for young families. The other thing that's really nice is the lagoon, they've connected it with the Mangere Bridge area with a walkway and cycle path all around it. Young mothers love it because they can walk off-road. It's also a great place for roller blading, although it's not going to overtake Mission Bay.
You'd be surprised how many good places there are to eat and drink in Onehunga. The Library Cafe is just lovely, it's the old Carnegie Hall, which was the library way back when. It's great for coffee and sitting around. It's also a great place to meet people, to talk to a random stranger.
What I love about the Onehunga main street is there are the old tatty places like the Working Men's Club and the RSA, and then you've got the new places. It's quite a contrast. One place I like is The Bramble wine bar on Onehunga Mall. It's a bit of an anomaly in amongst all the takeaway shops. It's an owner-operator place and the owner really knows his wines, plus they have tasty snacks. Onehunga is a real case of "build it and they will come".
There are several great places for a meal. Spreading into Royal Oak, there's a new place called the Zoo Keeper's Son. I'm not sure why it's called that, but you'll always remember it. They have big tables and lots of food, it's great for taking a group of friends. A lot of places don't do big tables, but you can have one big long table there and take 12 or 15 friends. There's also the Thai Archer, which is wonderful. Another cafe I particularly like is CEO on Onehunga Mall, it does good coffee, and they used to have films there, but they stopped doing it, which is a pity. DressSmart has made it pretty busy here in the weekends, but if you wander round Onehunga on a Saturday, there are a couple of small markets, outdoorsy ones. There's a knick-knack market that's full of treasures, and every couple of months in Royal Oak they have a huge market with around 300 stalls. There's the Latin American Cultural Centre here too, they have a lot of music. Each country has a cultural day, and they have events and music and good food. Most people don't know about it. There's a second-hand book shop on Onehunga Mall called Hard to Find, it's tremendous. They have heaps and heaps of stock and you get to go and dig things out. You could spend days in there digging.
The local Mitre 10 has a great garden centre, they sell avocado trees out the back there. It'll be a few years before we get anything from ours, but we're here for the long haul. You see lots of older people here who have the most amazing fruit trees and there's just fruit dropping off them, whenever I see a sign that says "pick these", I will. The thing about the area is that it's changed such a lot - it's picked up and become more stable.
There's a bit more money about the place, and the train stops here so it's much better for people who work in the city.
Onehunga is a nice mix of inner city, but with lots of space, and it's right by the sea with lovely parks. It's just a grand, fun place to be.
Eoghan's picks:
* CEO (Cafe Expresso Onehunga), 258 Onehunga Mall. Ph (09) 634 5553. Tasty food, child-friendly, popular all-round.
* The Library Cafe, 55 Princes S. Ph (09) 636 7292 Award-winning cafe, open seven days. Satisfaction guaranteed.
* The Bramble, 284 Onehunga Mall. Ph (09) 636 5635. Perfect place for an elegant tipple after work. Extensive cocktail and wine list.
* Latin American Cultural Centre, 45 Cardwell St. Ph (09) 636 5313. Social services, events, fiestas, and cultural exchange.
* Hard to Find Second-hand Bookshop, 171-173 The Mall. Ph (09) 634 4340. A treasure trove and haven for book lovers that more than lives up to its illustrious reputation.