M.A.C's Amber D outlines her stint working the shows which wound up in Paris last week.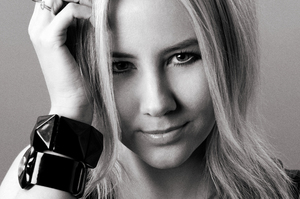 Monday (February 27): After an awesome Milan Fashion Week I'm now heading to Paris on the "fashion flight" - everyone who is remotely involved in fashion is on this flight.
Tuesday: Early morning M.A.C. team meeting. So great to see everyone. A quick visit to the discount pharmacy to replenish my kit and then on to the makeup test for [designer] Sharon Wachoub. Smallest space to work in ever: models, hairdressers, makeup artists, and casting for the show all happening in a room the size of my bathroom - welcome to Paris.
Wednesday: Just finished my only show today: Gareth Pugh with key makeup artist Alex Box. Inspiration for the makeup came from nuns! Perfected skin with lipstick pressed on to the cheeks as a natural flush then the heads wrapped in tape. Always love working on this show and love it even more when I get to do Kiwi model Emily Baker's makeup and catch up on goss.
Thursday: I have two shows today. The first is with key makeup artist Yadim at Sharon Wachoub.
The look is refined skin using M.A.C. Face & Body foundation and intense pink opal pigment highlights. Then I work on the Bernhard Willhelm show which is totally insane-o, in the best way. I did a krump clown makeup and painted a beard on a girl - just another day at the office. Back to the hotel by 11pm and a chocolate bar for dinner.
Friday: Up at 5am after dreaming of clowns from the show last night. I have an early call time for Roland Mouret with Gaga's makeup artist Val Garland. Incredible venue at the Westin Hotel and even more incredible clothes. The makeup features key trends for Paris: plums and cool grey-browns. After the show back to the hotel for a quick lie down before I have to be at a makeup test for Andrea Crews. I think the fashion week flu is kicking in! I proceed to overdose on vitamin C everything then head to a test for Jean Paul Lespagnard which is super-fast and finished in 90 minutes - now that's what I'm talking about.
Saturday: I have two shows with makeup artist Andrew Gallimore today: Jean Paul Lespagnard and Andrea Crews. Andrew works with Florence & The Machine, Beth Ditto and Jessie J to name a few. He's a blast so today will be awesome.
For the Andrea Crews show we are throwing paint at models so I brought my hotel slippers along and went on a stealth mission through our hotel to acquire 20 shower caps. Models don't know what hit them - literally.
Sunday: Costume National is first up this morning and we sweat it out on full-on smokey eyes, using greys and blacks. There is a lot of stress backstage but the makeup looks incredible. The models get dressed and almost all of them are wearing sunglasses and huge hats - Le sigh.
I run to the M.A.C. bus and mow down a few street-style photographers outside with my makeup kit. Race to Kenzo where I know we have to do makeup for 50 girls. Kenzo is electric. Graphic eyeliner plus bright lips plus 50 models plus no models arriving until an hour before showtime equals madness. But I love it - I live for this.
Monday (March 5): I work on Chloe with Kiwi Aaron De Mey today which is a joy. I've never met him until now, but I fall instantly in makeup love. Aaron [whose day job is global artistic director for Lancome] instructs us to only cover spots and refine the brow keeping everything as minimal as physically possible. I have a beautiful girl sit in my chair who has a major break out - So I'm thinking "here goes". Aaron says "it's awesome" in a familiar Kiwi accent and I'm stoked.
Tuesday: I head to the makeup test for Collette Dinnigan with key makeup artist Stephanie Kunz. The makeup is beautiful with a berry-stained lip. I catch up on the model goss with Aussie newcomer Jemma Baines - I also catch up with a girl who used to work at M.A.C. in New Zealand and is assisting Collette - such a small world.
I can't believe it but I have time for shopping! I hunt down the Balenciaga and Celine stores but am too tired to appreciate them so I retreat to the hotel bar where you will always find the M.A.C. artists hanging out between shows. It's probably my favourite part of the fashion week circuit.
Wednesday: Today, sadly, is my last show of Paris. Everyone backstage at Collette Dinnigan is elated and I finally see Kiwi model Ella Verberne and do her makeup for the show. Ella opens Collette's show and I feel so proud.
Paris is over and we're on such a buzz that myself and fellow M.A.C senior artist Cher W return to the hotel singing James Brown and Adele on the bus microphone - bunch of crazies. I say goodbye to all the M.A.C. artists and head to my room to get organised for country number three on this trip - Vietnam for a PRO Tour [PRO being M.A.C.'s professional makeup line].