Herald Rating: 3/5
Address: Killarney Park, Takapuna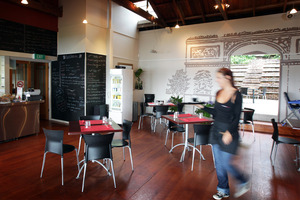 We came here because we'd heard the Pumphouse theatre's cafe had changed hands and it was a lovely day to enjoy the lake.
Parking was in the carpark next to the Pumphouse. If that is full there is another carpark nearby.
We walked in and immediately thought the selection of meals on the blackboard - covering breakfast and lunch-style meals - were suitably Gallic and the choice extensive. We liked that some offered full and half-size options.
The most unusual thing on the menu was the "stuffed chick with goat's cheese". Interesting image.
We ordered the croque monsieur Bretagne with grilled chicken, eggs and mozzarella ($17) and the crepes with chicken and mushroom ($8). Both were well presented and delicious.
The service was relaxed and suited the mood of the place.
The coffee was good, the tea too.
We recommend if you come here choose a fine day when the lake view is at its best - and bon appetit.
Overall we thought it was a picturesque spot with unique and delicious fare, which deserves great patronage.