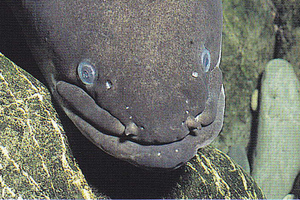 A favourite summer pastime as youngsters was to set a line for eels overnight on the shore of Lake Tarawera.
The tackle was simple green hemp fishing line with a short, heavy trace and a large hook baited with bacon or trout guts. This was tied to a wooden snag in shallow water and run up and over a tree branch which acted as a spring, and the hook rowed out and dropped into deep water.
When inspected the following morning, if an eel was hooked the line would be tight where it disappeared into the green water, and the eel would be anchored in the thick oxygen weed which coated the lake bed. It was near impossible to pull it in from the beach, but when the angle was changed to a direct pull from a dinghy the long black creature would come writhing up from the depths. These images were enough to cause nightmares in young minds in the dark of night, and when swimming in the lake on a hot day.
Many a young fishing career has started by lobbing hooks baited with worms into streams and ponds and the slimy results carried proudly home, for eels are found throughout the country.
A traditional method of catching eels involved "bobbing", where a bait of worms or huhu grubs was wrapped in flax or cabbage tree fibres attached to a stick and the bait left in the water until an eel swallowed it or its teeth became tangled in the fibres, when it could be swung ashore. Another approach was a simple one involving searching with feet or hands under stream banks or among rocks, and when an eel was located it was flung out on to the bank.
As the largest native freshwater fish, the tuna, as Maori knew it, was an important food source and is still highly prized by many. The slime which coats their bodies can be removed by sprinkling salt over it and, when congealed, can be scraped off. A dip in boiling water will have the same effect. Large eels are usually split and smoked, and smaller silver-bellied eels are exported to Europe where they are a traditional food.
They are mysterious fish, and their life story is rich in folklore and legend. One such piece of Maori lore recommends never cutting the head off an eel and throwing it over the side of a boat, or the eel's body will try to follow its head. This would apparently have its origins in the propensity for the primitive nervous system involved to continue affecting the body after the head has been removed.
There are two types of freshwater eel in this country - the long-finned eel, which is found only here, and the short-finned eel, which is found throughout the South Pacific. They are slow growing and long lived, and one female has been documented at 106 years old.
Their life begins and ends in the ocean and little is known of eels' breeding habits, but they are believed to migrate from inland waterways to the sea when between 20 and 40 years of age and swim across the South Pacific to spawn in the warm seas somewhere off New Caledonia or Tonga. They all spawn only once and then die. A female can produce up to 20 million eggs, and the leaf-shaped larvae float on ocean currents until they arrive at the coast, where they transform into miniature eels and swim up rivers.
These elvers, as they are called, can travel across wet ground and wriggle up the face of a dam as high as 75 metres, and straight up waterfalls. They grow slowly, feeding on insects, snails and small fish, and have been known to reach 2m long.
Large eels will swallow young ducks and one 9kg specimen was found to have a whole duck in its stomach. The largest recorded eel weighed 24kg but there have been unsubstantiated reports from 100 years ago of an eel of 59kg caught in Lake Wakatipu. Long-finned eels are one of the largest freshwater eels in the world.
There is no minimum size limit for eels, but there is a daily limit of six per person. There was a strong commercial fishery in the 1970s when 2000 tonnes of eels were caught, but that has dwindled to less than half since eels were put into the Quota Management System in 2000.