If you're savvy, shopping doesn't have to cost the earth. Cate Foster visits the best local outlet stores.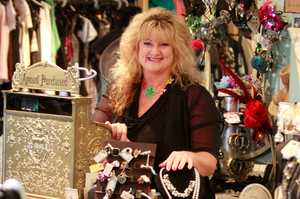 Call it what you like, clearance, outlet or factory shopping, the end result is the same. Even in the age of internet shopping these tucked away bricks and mortar stores offer great buys at bargain prices. Goods might be ends-of-lines, seconds, custom-made mistakes, out-of-season returns, repos or just keen direct importing, and apart from the seconds, which by law have to be clearly indicated, all are in perfect order. So here in no particular order, and for no particular reason, are my personal best. All, at one time or another in my long years as a keen shopper for the film industry, have produced unforgettable bargains, and none are in the easy-to-find outlet malls.
HOUSEHOLD ITEMS
Household Linens: Unit 3, 76 Porana Rd, Hillcrest, Auckland. Ph (09) 443 1183. Open Tuesday-Saturday 10am to 4pm. household-linens.com This small outlet attached to the warehouse offers ends-of-lines and broken ranges. Wonderful for finding random goodies of high quality items, but don't expect many complete sets.
ELECTRONICS AND ELECTRICALS
Noel Leeming Clearance Centre: 807 Great South Rd, Mt Wellington. Ph (09) 276 7006. Mon-Fri 9am to 5.30pm, Sat 9am to 4pm, Sun 10am to 4pm. This has to be one of the first places to visit when looking for anything with a plug on the end. Repos, demonstrators, damaged packaging, ends-of-lines or just perfectly good items with the odd dent or scratch. Displayed prices are often negotiable and on my recent visit I could walk away with ex-display items; a Panasonic 32-inch TV, full HD, 100GHz for $450, or a Toshiba Satellite laptop with 4G ram and an i3 processor for $599.
RENOVATION AND HOMEWARES
Tile Clearance Centre: 940 Great South Rd, Penrose. Ph (09) 589 1430. Mon-Fri 7.30am to 5pm, Sat 9am to 4pm. Increased hours during sale until tomorrow. This is the clearance outlet for the Heritage Tiles chain and has a large range of quality ends-of- lines, often in reasonably good quantities. Mosaics start from $1 per sheet, floor tiles from $15 per sqm and wall tiles a bit less. Helpful, knowledgeable staff who think nothing of loading the car.
COSMETICS
BDM Grange: 14 Piermark Drive, Albany. Ph (09) 443 9300. Mon-Fri 9am to 4.30pm, Sat 9am to 3pm. A cornucopia of lovely smells and luxury skincare brands at supermarket prices. Clarins, Roc, Bio Oil, Prada, Thierry Mugler, Hermes and many, many more. Whether it's renewing the family shampoo or splashing out on some well-earned luxury, here is a destination that's hard to beat.
SPORTSWEAR
The Outlet: 10 Silverdale St, Silverdale. Ph (09) 426 7100. Mon-Sat 9am to 6pm, Sun 10am-5.30pm. Long-established direct importer of a wide range of sought-after brands such as DC, Asics, New Balance, Quiksilver and Evolve hiking boots to name but a few. Also stocks clothing (children and adults) of 16 NFL teams. Aims for 50 per cent off retail all year-round with some keynote specials.
MEN'S CLOTHING
Cambridge Outlet Stores: 3094 Great North Rd, New Lynn. Ph (09) 825 0873. Mon-Fri 9.30am to 5pm, Sat 9.30am to 4pm. 224 Dominion Rd, Mt Eden. Ph (09) 623 1166. Mon-Fri 9.30am to 4pm, Sat 10am to 2pm. These are the outlets of Cambridge Clothing, a proud New Zealand brand that has been producing good quality men's clothing since 1867. Both are good places to find a bargain with quality guaranteed. Small sizes, big sizes, ends-of-lines and goodness knows what else. Beautifully made pure wool suits are priced between $225-$350 with manager's specials (usually seconds) starting at $100.
WOMEN'S CLOTHING
High Society: 155 Lincoln Rd, Henderson (behind Burger King). Ph (09) 837 1089. Mon-Fri 9am to 5pm, Sat 10am to 4pm. Long-established women's clothing brand with Catalyst, Obi, Chocolat and other ranges under the High Society umbrella. This is a well stocked outlet store with genuine reductions all year round and their bi-annual sales with further reductions are something to sharpen your elbows for.
DeVine Clothing: 335 Main Highway SH16, Huapai. Ph (09) 412 5683. Mon-Wed 10am to 4pm, Thu-Fri 10am to 5pm, Sat 10am to 4pm, Sun 10am to 2.30pm. Samples, over-runs, ends-of-lines and the whole gamut of clearance fashion from many of New Zealand's leading women's wear designers (Verge Vamp, Sabatini and many more) with a small amount of near-new recycle tucked in. Everything is chosen by Dellwyn, Trelise Cooper's younger sister. Come with time to browse and you'd be amazed at what you'll find - and you won't end up looking like anyone else.
CHILDREN'S WEAR AND SHOES
Bobux: Unit 5, 35 Allens Rd, East Tamaki. Ph (09) 969 0670. Mon-Fri 9.30am to 5pm, Sat 9.30am to 3pm. Quality (mainly) New Zealand made baby and toddler shoes and clothing. Foot-measuring service, merino, mercot and bamboo/denim clothing from birth to 2 years. This shop offers current retail stock, plus all ends-of-lines and clearance items at huge reductions (usually more than 50 per cent). Look for their biannual sales when prices are even lower, and stock up big time.
Seedling: Unit B, 11 Echelon Place, East Tamaki, ph (09) 530 8058. Mon-Fri 9am to 4pm. seedling.co.nz. Activities for the intellectually active child, aged 3-12. Here you'll find creative craft packs, skipping ropes and other active play toys, Bug Habitats to store your favourite creepy crawlies and a whole lot more. Upcoming warehouse sale April 12 to 14.
SHOES AND ACCESSORIES
Briarwood: 2/4 Lockhart Place, Mt Wellington. Ph (09) 259 0099. Mon-Fri 9am to 3pm. Over-runs, seconds, ends-of-lines; this is a genuine factory shop attached to the factory which is why it doesn't open on weekends. Bargains of at least 50 per cent off retail on good quality, often New Zealand-made, shoes, wallets and bags.
COMING SOON ...
Kathmandu: 255 Broadway, Newmarket. Ph (09) 520 6041. Mon-Fri 9am to 5.30pm, Sat 10am to 5pm, Sun 10am to 4.30pm. Clearance stock from this well-known brand. Clothing, camping gear and all the rest.
WHILE YOU'RE THERE, CHECK OUT ...
* Silverdale
Bendon: Cnr Silverdale Rd and Agency Lane, Silverdale. Ph (09) 426 4213 Mon-Sat 9am to 5pm, Sun 10am to 4pm. bendon.co.nz. Lots of the luscious Bendon range at clearance prices.
The Outlet Store: 4a Agency Lane, Silverdale. Ph (09) 426 1001, Mon-Sat 9.30am to 4.30pm, Sun 10am to 3pm. Great range of swimwear from many of the well known brands, Moontide, Jantzen, Sunseeker and the like. Some underwear but the main emphasis is on swimwear.
* Manukau City
NZ Merchants: 25 Druces Rd, Manukau City. Ph (09) 262 3610, Mon 9am to 4pm, Tues-Fri 9am to 4.30pm, Sat 9am to 2pm. Knock-down prices on bed linen, cushions, towels and lots more. Great deals on overruns and excess stock.
* Henderson
Interio: Unit C3, 50 Keeling Rd, Henderson. Ph (09) 837 8358, Fri-Sat 10am to 4pm. Upmarket European bathroom ware at very good prices.
* Pukekohe
Dogs Breakfast Trading Company: Unit 8, The Zone, 14-28 Subway Rd, Pukekohe. Ph (09) 237 1851. Mon-Fri 9am to 5.30pm, Sat 9am to 5pm, Sun 10am to 5pm. Lots of good stuff but at the moment Nood clearance stock is on offer. Well worth a look.
* Websites worth knowing about
A good list of country-wide outlet stores, well linked and lots of features.
A good list of outlets, although not linked to the company's own sites.
Not factory shopping but a good heads up on (mainly) women's high fashion sales.