Find more restaurant reviews with our Google map
Address: 82 Hinemoa St, Birkenhead
Ph: (09) 419 9082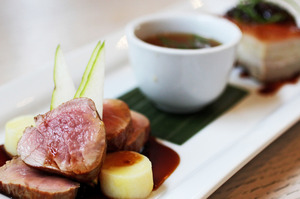 The message about locally sourced, seasonal, best-quality ingredients has been hammered so repetitively by the armies of telly and media chefs that you almost wish for a restaurant offering only imported winter greens from Uzbekistan in February. Almost.
The fact is that, thankfully, at most New Zealand restaurants with any pretensions to excellence you can take the standard of the main components for granted. What sets the better examples apart is often the trimmings and the balance of the various elements in a dish.
This thought came to mind at Eight Point Two, a well-established and well-praised Birkenhead institution. One of our mains, a professionally executed piece of snapper, came with a Latin American corncake and a tomato sauce spiced just enough to be lively with chipotle, the Mexican smoked pepper. My first course scallops sat on little black puddings with a cauliflower puree, a pleasing little juxtaposition, and our other dishes all displayed a well considered approach to making individual what is essentially a fairly short and straightforward menu.
There is a certain simplicity in the whole of the act here. The surroundings in an old villa, slightly incongruously close to the neighbourhood chip shop and the funeral parlour, are plain but stylish and with plenty of room. The service is intelligent, knowledgeable about what they are serving and marked by a diligence in ensuring everything is delivered as and when you want it.
The wine list is modest in length compared with many but is well chosen and the Beach House 2009 Hawkes Bay chardonnay that we had not encountered before was particularly warmly received.
Despite its relative brevity, the menu still affords plenty of opportunity to womble over choices. The mixed mushroom risotto with truffle and parmesan sounded worth a try and, in the main courses, for one recovering from a previous red meat overload, the grilled aubergines with peppers, courgettes, beetroot, pine nuts and buffalo mozzarella had a distinct appeal. The vanilla confit duck leg with bok choy, shiitake and kumara also suggested a novel combination without being outlandish.
In the event our actual choices left us with no regrets. The foie gras parfait was rich and creamy and complemented ideally by the tart edge of the orange compote.
The staff member's description of the sauce with the snapper was perfectly accurate, with its hint of spice pointed by the contrasting corncake and tiger prawn. I remain slightly in two minds about the marriage of pork belly and beef fillet in one dish but each was competently done and the miso and the chilli garnishes worked well.
The dessert list is also short but the hot chocolate fondant was vivid in flavour and matched by an invigorating lemongrass sorbet.
The three cheeses on offer were, unusually, all imported specimens and my gorgonzola was served in good condition and made a fitting end to the meal and the thoroughly relaxing evening we had enjoyed.
Rating out of 10
Food: 8
Service: 8
Value: 7
Ambience: 7
Our meal: The pricing policy here offers a three-course package and two two-course options as well as a la carte. We had the first course, main and dessert option at $70 a head with five glasses of wine taking the bill for two to $202.50.
Wine list: A good range by the glass and 250ml carafes which were going well at other tables.
Verdict: Every neighbourhood should have a restaurant as welcoming and proficient as this one, blending informality and style in an appealing way.