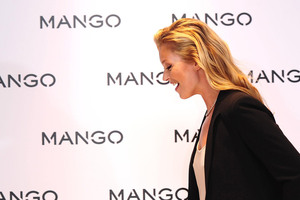 An advertising board featuring Kate Moss collapsed in London, injuring four people.
The 4.5m hoarding - which featured the supermodel's latest campaign for fashion store Mango - fell over in the busy shopping area of Oxford Street yesterday afternoon (local time).
A man, thought to be in his 60s, and three women were taken to hospital - one suffering from suspected back injuries.
It took about 15 people to push the board - which was hiding building work at the store - back up before three fire engines, four fire rescue units and around 40 firefighters arrived at the scene.
Shop worker Matthew Wilson, 27, told The Sun: "People couldn't get out of the way. One man was screaming.
"It came down quite slowly. I saw people get out of the way but if he was elderly he probably couldn't get out of the way in time.
"I saw him and a brown haired woman get crushed underneath it. The screams from the gentleman were quite horrific.
"I could only see him from the shoulders up, hearing him scream and just seeing his grey hair."
A Scotland Yard spokesman confirmed the incident to the BBC, and said one of those injured was a woman in her mid-40s, and another was 23-years-old.
"Police carriers backed on to the hoarding to support it while efforts were made by workmen to secure it," he said.
"It was the kind of hoarding that surrounds a shop when it is being refurbished."
The Health and Safety Executive has been informed and is "making initial enquiries".
- BANG! Showbiz