What makes certain wines provoke more thought is a matter up for debate.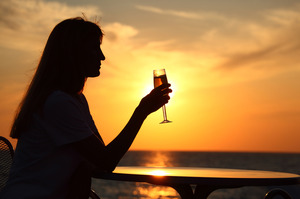 Complexity is somewhat of a loaded term. On the one hand it suggests something intricate with the power to provoke reflection: on the other, something hard to understand and potentially perplexing. It's often used as a positive descriptor for wines, albeit in an often ambiguous way.
"Wine not only provides us with pleasure, it can also challenge us to think," notes Dr Wendy Parr of Lincoln University, "However, the ability of a wine to evoke cerebral as well as sensorial responses is not a given. Not all wines stimulate our minds to the same degree."
Parr has given the subject of complexity more consideration than most, recently collaborating with the University of Paris VIII in a study that aimed to discover what this abstract concept means to wine drinkers and wine professionals.
"From a scientific perspective, precisely what makes a particular wine encourage thought is not clear," she explains, "but a reasonable assumption is that a wine we consider 'complex' is more likely to do so that a wine we consider 'simple'." Previous studies have also highlighted that complexity is linked in the minds of many with higher quality in wines.
In Parr's study, participants were asked to provide the first phrases that came to mind when asked about complexity in wine. One of its main findings was that the perceptions of complexity between pros and laymen were significantly different.
Wine consumers viewed complexity through the subjective lens of their own experiences of consuming wines: through their enjoyment of the smell, taste and flavours of a wine. In contrast, the conceptualisation of the professionals (who were largely winemakers) was dominated by external factors such as the winemaking techniques employed to increase complexity - they also separated red and white wines in their considerations.
I'm often asked how people can judge whether a wine is complex and consequently "good". My basic rule of thumb is the more positive descriptors that come to mind when you're drinking the wine, the more complex it's likely to be. If you can't find much to say about it, the chances are that it's pretty simple.
That's not to say that simple equals bad. At the end of a taxing week, or relaxing alfresco, something uncomplicated is often the best option. There are also plenty of folk who don't want to sit stroking their chins over a glass of wine and find styles that are instantly accessible the most appealing.
If complex means a wine that's saturated with winemaking artifice, overworked and full of oak, then I'll pass in preference for simplicity every time. For me, a great wine is one in which complexity is yoked with balance - where all its multiple aromas, flavours and textures work together in harmony.
I must admit I'm someone who relishes a challenge, in wines as in life, and tend to get most enjoyment from wines that I need to put some effort into. These are the wines a drinker has to meet "half way", but reward the drinker with an exciting combination of intellectual and sensory stimulation.
CEREBRAL DROPS
SIMPLE PLEASURES
Church Road Limited Release Hawke's Bay Rosé 2011 $28.99
Some wine styles are not meant to be taken too seriously, with rosé largely delivering an uncomplicated hit of simple sensory enjoyment. That said, this new limited release from Church Road is made of weightier stuff than most, with a mouthwatering, concentrated palate of strawberry and raspberry fruit, florals and spice. (Widely available from leading liquor retailers.)
PINOT FOR CONTEMPLATION
Te Rehua by Escarpment Martinborough Pinot Noir 2010 $65
The complexity to be found in the best examples of pinot noir has earned it the title of the thinking person's red and this complex example from Escarpment's series of single vineyard pinots provides the drinker with plenty for the mind as well as the palate. Its multiple layers unfurl to reveal supple and silky dark cherry fruit, notes of roasted spices, dark chocolate and hints of game, supported by fine tannins and tightly wound acidity. (From Glengarry, Fine Wine Delivery Company, Caro's, Point Fine wines.)
SENSE AND SENSUALITY
Auburn Lowburn Central Otago Riesling 2011 $28-$35
Riesling also combines the cerebral with the sensual. There's a lot going on in this fabulously intense sub-regional example from exciting riesling focused producer, Auburn. Succulent notes of green apple, stonefruit and lemon bitters laced with ginger are underpinned by a racy line of grapefruit and mineral that beautifully balances its sweetness. (From Scenic Cellars, Wine Vault, Wine Direct, La Barrique.)