Racewear competition winner Julie Barbour's tastes off the field.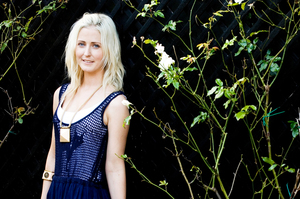 Julie Barbour charmed the judges at Viva Fashions in the Field at the Boxing Day races last year with a thoughtfully pulled together ensemble that saw her take out the supreme prize. Barbour, who also runs Hamilton fashion boutique Sisters on London with sister Claire, also competed in the Nissan Prix de Fashion at Derby Day last Saturday.
Her father has shares in horses, and she used to ride, so she loves the atmosphere on course, and the "mix of the horses and my new passion being fashion".
Barbour's tips for great racewear during the current Auckland Cup Week? Be classic and elegant, put thought into everything from headwear, gloves, clutch and shoes and "at the same time pull in current fashion trends". She tells us more about her personal style, away from the racecourse.
My earliest fashion memory ... I remember Mum taking me to a children's designer store to get an outfit for my uncle's wedding when I was about 5. I have never forgotten how amazing and fun the experience was - getting something special then coming home to do the standard fashion parade in the lounge to Dad - and always remembering to take the first figure off the price when he asked how much it was.
That is something that has never changed.
If I could have anyone's wardrobe ... I love Whitney Port's style (designer of Whitney Eve clothing line). She experiments boldly with colour and patterns, but makes the look pretty and girly at the same time.
I have a few favourite designers and labels, but my top ones would have to be local designers Lonely Hearts and Blak, with Sass and Bide being my favourite Australian label. They are all so unique yet wearable and every season.
I love New Zealand fashion because ... it's different from any other country and allows you to reflect your own personal style through your wardrobe. With NZ designers not being so mass-produced like overseas designers, it works to keep their ranges individual and different.
The most treasured item in my wardrobe is ... a Diane von Furstenberg dress I purchased in Singapore 18 months ago - a gorgeous butter-coloured silk dress with a bright print. I love it so much that I haven't even worn it yet. I'm just waiting for the perfect occasion.
I love wearing dresses as I find them so easy, being a whole outfit. And I tend to go for anything in the shade of blue.
I don't really collect anything, but the shoe area in my wardrobe is overflowing. I like to impulse-buy shoes and just have them there when I need them for an outfit, instead of purpose-shopping for them.
On my winter wishlist ... I love the Lonely Hearts winter collection, featuring beautiful navy dresses and a maroon cape coat I can see myself surviving the coldest of winter days in.
In my makeup bag ... are my essentials: Smashbox halo SPF15 all over face bronzer, M.A.C haute and naughty lash mascara for full thick long lashes, Eve Lom kiss mix lip conditioner from Mecca, perfect for summer-soft lips; Clinique superbalanced liquid foundation. It never fails, I've worn it for years and lasts all day to night.