Oaks and roses hark back to an earlier time at this homestead, writes Meg Liptrot.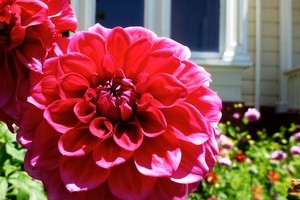 There is something about old homesteads, particularly those being restored, that captures the imagination and warms the heart. Oruawharo, a two-storey home built in 1879 by Sydney and Sophia Johnston, standing on 17ha in the central Hawke's Bay, is such a place. The Historic Places Trust category II-listed building was saved from demolition in 2000 and the house, its gardens and an assortment of picturesque farm buildings are being restored by former Aucklanders, Peter and Dianne Harris.
As we drove through the golden, poplar-studded fields of Takapau, the homestead appeared at the base of a dark hillside.The mature trees which frame the house and swathe the hillside form a historic arboretum which features specimen trees, such as elm and sequoia. The large trees, some more than 100 years old, were planted by society and political figures in the 19th and early 20th centuries.
The land formation felt like an ancient harbour. Peter later showed us a couple of shell fossils unearthed on the property by palaeontologists, so my hunch was correct.
This explained the choice of the present owners to plant 600 English oaks inoculated with truffle spores. The tree species, and the underground fungus which grow on them, suit limestone country.
We sat on the sweeping back veranda of the house, sipped tea and soaked up the charming atmosphere. The formal lawn is bordered with massed hydrangeas, underscored with delicate border plants in tones of white, pale lime and shell pink, and framed with roses.
This romantic garden has a dovecote and benches painted white, bounded by a restored cherry laurel hedge under the dappled light of mature red oaks. It is a fitting venue for weddings, and the annual charity opera is held there each year.
My eye was caught by simple plantings at the service side of the house, a bed of tall white daisies, an old shrub fuchsia with arching stems covered in dark magenta blooms. These plant choices evoke an earlier time and are also reflected at the front entrance, with its glamorous beds of striking dahlias in reds and pinks, accented with almost black hollyhocks. Peony beds feature on the lawn at the front of the house.
An impressive potager is also at the front. This large, formal vegetable garden is replicated from the property's original design. It is lush and healthy thanks to the rich organic compost made there, and includes asparagus beds, rhubarb, zucchini, yams and cabbages bordered by concrete decorative edging. Our last half-hour was spent in the restored shade of the arboretum. This involved a stiff climb up a hill (a shortcut), which culminated in a view of the ranges behind the property, and a gentle meander back along a leaf-littered road. The leafy quiet was punctuated by the voices of Canadian WWOOFers (Willing Workers On Organic Farms) working in the woods. Volunteers have played a big part in the garden's restoration. Large groups from garden clubs spend weeks clearing and revealing the overgrown gardens.
I surmised that Oruawharo could become New Zealand's own Lost Gardens of Heligan. At this comment, Peter told me he'd been to the Heligan gardens in the UK and, in turn, two volunteers from Heligan came to Oruawharo to give the couple guidance on garden restoration. Properties like this are a serious undertaking, and not for the faint-hearted, but the rest of us can dream.
Create some old world charm
* Plant a perennial flower garden with classics such as hydrangeas, dahlias, daisies, old roses and fuchsias.
* Plant bulbs such as bluebells, freesias, snowdrops and jonquils around fruit trees and deciduous trees for some winter colour.
* Keep chooks or build a dovecote.
* Pay attention to detail; make things by hand. Handwrite or paint plant names on copper tags or timber stakes.
* Use old tools, hand-sharpened and oiled.
* Plant in terracotta pots, not plastic.
* Use a wooden garden shed, or simple glasshouse; grow your own seedlings.
* Dig up a strip of lawn and grow root veges.
* Build a compost bin from untreated timber.
* Pick fresh flowers for the house and put them in old enamel jugs or an old Agee jar.
* Give preserving a go, share fruit with neighbours or donate to those in need.
* Click here for more about Oruawharo.