Fiona Gower tells Elisabeth Easther why she loves her community.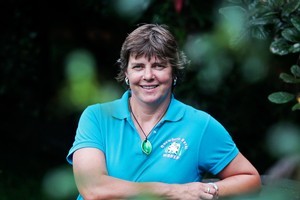 There are so many neat things to do round here. The three main beaches are Port Waikato Beach, Sunset Beach and Maraetai Beach. And there's the Waikato River too. There are three playgrounds at the Port - a neat one at Cobourne Reserve as you come into town, with a slide and swings and things like that, and it's right by the store for icecreams. There's a playground at Maraetai Bay, and another one down at Cordyline Rd, Port Waikato. It has a taniwha slide, with a climbing frame and a flying fox, and tennis courts down there as well.
Down at the Port, there's a great fishing club and also a sailing club, where visitors are most welcome. Every year they have the Port Waikato Christmas Parade which is amazing. Last year there weren't that many people on the side of the road, as they were all on the floats!
My daughter is a junior at the surf club at Sunset Beach. They do such a great job, you just can't be too careful on our west coast beaches. The surf club people teach the young ones how to read the waves, and how to be safe. That's once a fortnight. You have to be a regular though, you can't just turn up the once.
Just south of us is the Nikau Cafe and Caves. They've got these amazing caves and they run tours through them. People came down to see the caves, with their glow worms and stalagmites and stalactites, and they wanted coffee and food as well so they opened the cafe. Sometimes they have dinners for the locals and all sorts of concerts. It's a great focal point, in the middle of nowhere. It takes about an hour and a half to do the tour. It's on the Rural Women's list of things to do. If you're lucky you might get to see a show at the OSPA - Onewhero Society for Performing Arts - they present all sorts of productions throughout the year in their wonderful theatre.
There's also great fishing down our way, as well as whitebaiting, during the season, on the Waikato River. I take the 4-wheel drive and go to Maraetai Bay and put the net in. People go all along the river from the mouth to as far along as the Tuakau Bridge. It's wonderful when you get them running, the kids love it.
Onewhero has a really good rugby team and clubrooms too, over summer on Friday nights they have touch games and so many people go for the community spirit. They have squash courts there as well. There's also the Onewhero Golf Course at Pukekawa. They do meals sometimes, on a Friday night or during the winter, and on twilight golf nights. Riverland Quad Bike Safaris operate bike tours around the area, if you're after something more exciting.
If you like walking, there's the wonderful Harker Reserve walk and waterfall between Tuakau and Onewhero.
Onewhero has a dance studio. All the little girls go there, there are no boys at the moment as they all seem to play rugby. Last year the girls did very well in their exams. At Port Waikato, we've got the store and the Top 10 Holiday Park. It's absolutely beautiful there. They have CeeCee's, the takeaway shop, where they do very good fish and chips.
There's a really good foodie trip which our rural women's group has done a couple of times. We start at Pokeno Bacon, then we go to Mercer Cheese and then off to Te Kauwhata to a place called Savour the Taste, where they make all sorts of things like chutneys, jams and vinaigrettes. It's a brilliant Sunday out, wandering round Pokeno, then having lunch at the cafe and then rolling on home with our produce. We're all quite particular about our food too, we get our own home-killed meat, so plastic sausages are not going to do it for us, and Pokeno Bacon sausages are simply lovely.
Fiona's picks:
* Top Ten Holiday Park, 115 Maunsell Rd Port Waikato. (09) 232 9857. Idyllic for relaxing, fishing and families.
* Riverland Quad Bike Safaris, (09) 232 8798. Maori culture, beautiful landscapes and 4-wheeled thrills.
* Nikau Caves, 1779 Waikaretu Valley Rd, Tuakau. (09) 233 3005. Eat, drink, explore, relax.
* Pokeno Bacon, Great South Rd, Mercer. (09) 239 2086. For everything pork related, this is a meat lover's heaven.
* Mercer Cheese,Roose Rd, Mercer. (09) 232 6778. Award-winning cheeses tempt the palate.
* Rural Women New Zealand has just published A Good Harvest. This book of recipes is filled with delicious ideas for baking and preserving. Fiona Gower gave several favourites to the book, including a feijoa cake and zucchini cake.