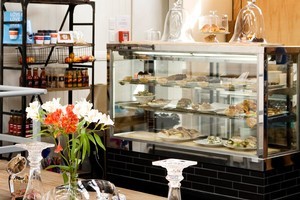 Check it out
We screeched our car to a halt when we noticed the new Gasket Espresso Kitchen had swung open its doors. Stuart Cross, owner of Velvet coffee roasters, has transformed a dark and grimy working garage into a light and airy space serving spectacular coffee and incredible food. Check out the whipped avocado and cold smoked salmon on toast or home-made baked beans on kumara and sunflower bread - a great way to rev up your day. 23b Kalmia Rd, Ellerslie, ph (09) 921 52028. Open Mon-Fri, from 6.45am.
First class
Feel like a bit of first-class pampering and attention? Well, we suggest taking the Gold Class option at Event Cinemas. Imagine watching a movie, feet up, a glass of bubbles in hand and an on-call waiter to deliver you refreshments. It's bliss and tickets are only $20 for screenings on Mondays, Tuesdays and Wednesdays until March 21.
Put it on the list
With all the fuss and seriousness attached to gourmet icecreams and making your own healthy gelato, it's great to see a new range of ice creams on the market that scream "fun". Holy Moly icecream flavours are based on combining chunks of your favourite sweet treats with icecream. With names like Waffle On (raspberry ripple, crushed waffle cone, choc-coated peanuts) and Meringue A'Tang (pavlova, lemon curd, pie crust crumble) they're hilariously good. $9.90 for 500ml tub from New World Vic Park Market and Farro Fresh stores.
Viva
For those who love to savour words as much as food then the Penguin Great Food series of books is a must. These gorgeous books - that look good enough to eat - bring together the finest food writing from the last 400 years. Pocket size and at just $13 each they're the perfect foodie treat - without the calories.