Don't cut corners with your complexion if you want that lasting luminous look.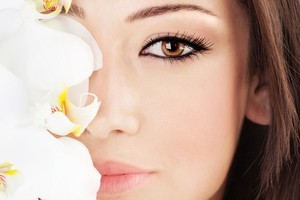 If you've painted a room, you'll know you get the best, longest-lasting results by taking a layered approach: priming, colouring and then sealing your careful brush work, before picking out the trim. It's the same with your face: you'll get the smoothest looking, most attractive skin surface to decorate if you make a little extra effort with preparation, application and finish.
Always start with well-hydrated skin. Apply a primer to create a smooth base and get good advice on the right foundation match for your needs - which change with time and the seasons. Tips on how to best apply blush and highlighters will also prove invaluable and these are best learned during a hands-on lesson from a good makeup consultant.
Luminous skin has always been prized but right now it is a beauty obsession; the one unifying element in a season where cosmetic colour trends are a veritable lolly scramble. M.A.C describes the sensational skin look as "Ath-elite" referencing the healthy glow that comes before a good workout that hasn't turned all red and sweaty.
If you have oily, blemished skin the idea of a natural look (or perhaps wearing makeup at all) may be scary, but don't despair - modern foundation does provide semi-matte coverage. It also allows something of the skin's own texture to show through, however, so it pays to work on condition with a good cleansing and treatment regime.
You could try one of the new BB creams which both moisturise and provide a little light base coverage. These blemish balms are popular in Asia and function like a thicker tinted moisturiser with added skincare ingredients and often a sunscreen. Expect to see more companies introduce them here. You can wear them alone or layer under your foundation.
For those with older skin, light-reflecting foundation formulas - and primer - are good for deflecting attention from flaws and lines. First judiciously apply concealer to camouflage redness and dark circles, while also minimising the amount of foundation you will need. Experiment with cream or gel blush to add gentle colour and don't be scared to try highlighters and illuminators for glow.
A touch of transparent powder will help "set" anyone's makeup, giving staying power without adding a caked look.
Expert insights into what products to look for. Other ranges increasingly offer similar priming, foundation and powder choices.
What's new with makeup formulas that is allowing coverage without clag?
Lancome national education manager Karen Barlow: Foundations use small light-reflecting pearls to create a more radiant looking skin. (Lancome's Teint Miracle is a new style of illuminating foundation which provides good coverage while looking natural - which is very difficult to achieve as good covering foundations often don't look natural and natural looking foundations don't give good coverage. It allows your skin's natural aura to shine through and at the same time the micro-liquid mirrors reflect surface light so your skin has luminosity, without looking shiny or oily.)
M.A.C's Amber Dreadon: Formulas are becoming more and more sophisticated. You don't need heavy foundation to get coverage that lasts anymore. It's all about finding the right one and also the right techniques to apply it so it blends over the skin seamlessly. (At M.A.C we have lightweight long-wearing products, foundations that adjust to match your skin tone and even a foundation that helps firm the skin).
Most woman commonly just moisturise and apply foundation, what extra do they need to do and how easy is this?
Barlow: A primer is a must. They ensure your foundation glides on more readily, lasts longer and looks fresher. Some give radiance (try Lancome's Miracle Eclat), and some are oil-free (such as Lancome La Base Pro).
Dreadon: I like to ensure the moisturiser melts into the skin well by using M.A.C. Fix+ spray first (the combo of cucumber, green tea and caffeine is amazing). Follow moisturiser with an eye cream for under makeup, and then a primer that will maximise the look of your skin while minimising how much foundation and concealer you will need to use.
Liquid foundation or mineral powder - is there a preferred way to get coverage that looks barely there, but does conceal some imperfections?
Dreadon: Either. Powders work much more efficiently now so if you prefer to brush on a mineral powder (try M.A.C Mineralize Loose) you will get a medium coverage that still keeps the skin looking luminous - not old-fashioned powdery.
Is that naturally glowing look something that works on all ages?
Barlow: Many mature women do prefer to use a foundation that is not thick or creamy, so as not to draw attention to lines, plus it's more fashionable today to avoid this look.
Dreadon: Everyone, no matter their age, wants to look glowing. The appropriate products just need to be matched to the skin type. (Strobe Cream is a great product for a more mature skin while Mineralize Skinfinish powders are great on a normal to oily skin.)
Any tips on how to apply foundation?
Barlow: There are no rules here: brush, fingertips or sponge, but you will get a slightly fuller coverage with a brush and it does make blending the foundation around tricky spots like the nose wings, hairline and jawline easier.
If women like the finish of powder can they still use this without looking dated?
Dreadon: Just choose the right one. Many powders have been developed with high-definition TV in mind so they will smooth out the appearance of skin without looking heavy. (My M.A.C faves are Prep+Prime powder and Careblends powder that looks creamy but matte, and polishes the skin).
GET IT RIGHT WITH THESE PRODUCTS
1. M.A.C. Matchmaster $75
"Adjustable" foundations have been around for a while, but often they don't offer much coverage or colour range. What's new about this one is it gives buildable, medium coverage and comes in 14 shades from very fair to dark.
The "shade adapting" ability is because its micro-fine colour pigments are in transparent spheres which allow natural skin texture to show through, meaning it will give a different match on differing, but similar skin tones. It was tested backstage internationally last year on models of varied ethnicities.
The semi-matte finish offers good staying power, but for glow you will need to add other products.
2. Dior Skin Flash Primer $91
This versatile brush-on product can be used to disguise imperfections while creating an undercoat for foundation or use over your base for added radiance where needed.
It's a bit like those brush-on illuminating concealers - use it as and where needed. Dior's makeup guru Tyen recommends blending two parts of Flash Primer with one part foundation in your palm and then dabbing it on with fingertips for some barely there camouflage.
Available in four shades; go a little lighter than your foundation.
3. Lancome Teint Miracle $82
This is my pick of the current crop of illuminating foundations. Unless I'm testing something else or travelling somewhere hot and humid where I may go for a more matte long-wearing option, I wear this daily. Some may find it doesn't give as much coverage as they are used to, but it is easy to layer a little more around areas that may need it, like the nose and chin.
I find when wearing Teint Miracle that I don't feel the need to add illumination.
You'll need a light textured blush so as not to overwhelm the delicate effect.
4. Bobbi Brown BB Cream SPF35 PA+++ $75
If you like the ease of tinted moisturisers but feel your skin could do with more hydration or evening out, I'd suggest you compare results with a tinted BB cream, you may prefer the creamier feel.
This is a good, though pricey, one, coming in three shades and with sunscreening that includes a high PA+++ rating against ageing UVA. Liquid foundation sits happily on top, or wear the BB alone.
5. Revlon PhotoReady Eye Primer & Brightener $29.95
Following the launch of its recommended PhotoReady foundations and powders, Revlon has brought out skin primers for the face ($36.95) and eye area. They contain photochromatic pigments to diffuse light, making lines appear softer.
Applied under the eye area this pen brush evens skin tone and on the lids it provides a good base for colour.
6. Lancome UV Expert GN Shield BB complete SPF50 PA+++ $79
This fleshy toned BB offers strong sunscreening for UVA/UVB and also anti-pollutant protection. Though a tinted moisturiser provides a wash of colour, a BB cream offers a degree of smoothing, reflective coverage and also deters shine, which this does convincingly.
I'd choose this one if serious sun protection was a priority, but with a more refined base than sunscreens alone could offer.
Foundation fans would, however, still want to layer up.
7. The Original Beauty Blender $49
A foam device like this is an alternative to using a brush, making it easy to roll colour around those awkward areas such as the side of the nose. (From East Day Spa.)
8. Napoleon Perdis Auto Pilot $58
A top-seller in Napoleon's range, this gives skin the same sort of slick feeling hair gets from a good conditioner. Foundation will glide on easily. (Selected Farmers stores)
9. Inika Liquid Mineral Foundation $69.99 and Vegan Foundation Brush $49.99
Inika's foundation is an award-winning example in its home country of Australia, containing aloe vera and tamanu oil for skin conditioning and medium coverage.
The downside is it comes in only four shades. (From selected pharmacies and health stores, stockists see here.)