New season's makeup is as moreish as a plate of macaroons.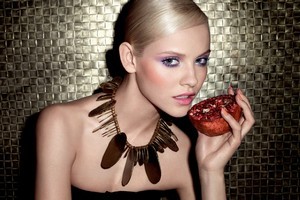 Flowers and confections are inspiring a loveliness to cosmetic colour that is hard to resist. Like being asked to choose a beautiful bloom from the garden or a sweet treat from a dish of fruit jellies, something is bound to catch the eye.
From pretty pastels to more intense sunset shades, there are a rainbow of options on offer. What saves this gorgeousness from veering into garishness is that it needs to be applied with a light touch, what Yves Saint Laurent's creative director of makeup Lloyd Simmonds describes as "nude in colour".
The trick is to choose a couple of complimentary or contrasting colours from the cornucopia. Pair this with skin that is refined, but with foundation that appears barely there, and just a flush of blush.
Violet and mint are my favourite of the new eye shadows, with tangerine and pomegranate or softer sorbet shades especially appetising for lips. The good thing about these and others of the pretty shades we show today is that, come spring, they will bloom again because makeup shows no sign of ending its recently rekindled love affair with colour.
While combinations of browns make up the top-selling eyeshadow palettes for most brands, wearing nothing but is as boring as having a wardrobe overwhelmed by black.
Make the most of early autumn's clear, bright light by enjoying playing with some mood-enhancing colour. Start with sheer shades and as you feel bolder enrich your palette. Once the gloom descends, darker and metallic shades will feel more in tune with the season, but for now a pretty plate of Turkish delight rather than toffee would be tastiest.
Brand conscious
The pretty pretty trend has been adopted across many of the prestige brands, especially those with close links to international fashion houses and with creative directors who work at the main fashion weeks where many of the defining looks emerge.
Is it any wonder then that ladylike dressing should later morph into cosmetic colours that celebrate femininity?
"After women, flowers are the most lovely thing God has given the world," said Christian Dior. Tyen, the House of Dior's makeup maestro, has picked a Garden Party theme to dress women's faces. His colour collection is inspired by his own favourite purple flowers, by foliage and by Dior's love of roses, right down to a soft green rose-scented nail polish worn with lilac lids.
Rose and peony enchanted gardens are also on the mind of Aaron De Mey at Lancome, in a collection called Roseraie des Delices which mixes candy pinks and almond greens with tangerine. (There's even a green-coloured gloss, though it goes on clear).
Chanel's Peter Phillips is entranced with pinks and oranges, but cites a connection to the colours of dusk or dawn. This stipled effect is best seen in his limited edition Spring Harmony blusher. The tropical cocktail shades take on a more sophisticated edge paired with deeper plum for lips and nails.
At YSL the collection is called Candy Face and is a veritable sweet shop of lolly looks made luscious with tints and transparency in formulas that soften summer's neon brights. Bobbi Brown has also made colour pops more accessible by using them in glosses rather than solid shades and Estee Lauder new Pure Colour Cyber Eyes pencils are a way of adopting colour but applying it subtly along the lash line. The approach at Clarins is noticeably more restrained this autumn, but even its neutral palette does have a pink-mauve warmth.
Glowing in the dark
This beautifully soft version of a smoky-burgundy eye is a pointer of how to marry the pretty and the dramatic. It was crafted by Tom Pecheux for Estee Lauder at the Derek Lam show at New York Fashion Week this month and is modelled by Chinese supermodel Liu Wen. The delicate pink-beige lip colour keeps the overall look fresh and is a great pointer for the months ahead of how to take your makeup into darker territory with a modern approach.
It also won't be long before the annual winter makeup offering of plums and berries abounds. Metallics are also ahead, with the usual gold-infusions deepening to bronzes and russets. Watch out also for some dramatically dark starry night shades. (M.A.C., Napoleon Perdis and Revlon have these looks down pat)
* Viva will talk more about winter's best looks in the months ahead.