The place to be is Queen's Wharf this evening when Viva celebrates the best of New Zealand fashion.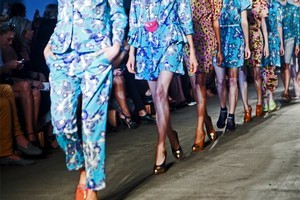 The New Zealand Fashion Festival is happening right now across Auckland's central city and the team at Viva are super-excited about their special Viva Live Seminar and Runway Collection Show, taking place tonight at Shed 10 on Queens Wharf. The Viva team will take the stage with special guest Karen Walker who will be talking about the success of her fashion label and what it's like to show at New York Fashion Week. Viva's eating out editor and World Kitchen television star Nici Wickes is going to be on stage tempting guests with her take on the latest food trends, plus we'll be taking you behind the scenes of the fashion in today's Viva.
Everyone who attends the seminar walks away with a fabulous Viva goodie bag including a $30 Karen Walker voucher, Orly, TRESemme, Estee Lauder and Savar samples and more. Plus there will be some amazing spot prizes for a few lucky crowd members like a $500 Karen Walker voucher, lunch or dinner at No.1 High Street and a luxurious Spa experience at the Pullman hotel.
After the seminar will be the Viva Runway Fashion Collection where you will see the latest looks for top labels Trelise Cooper, Cybele, Sabatini, Ingrid Starnes, Taylor Boutique, Celine Rita, Andrea Moore, Playtex, Max and Caroline Sills. It's going to be chic, it's going to be stylish. Make sure you're there. Be quick and snaffle up the last of the tickets for tonight's shows from here.
Tickets
The exciting news is that whatever you spend on a ticket for tonight's show or the other Fashion Festival collection shows that take place throughout this week, you'll get far more back with goody bags full of fabulous gifts, vouchers and discounts at all the fashion stores involved in the festival. It's the ticket that keeps giving. Tickets here.
* We have all the action from NZ Fashion Festival covered. Life & Style editor Nicky Park will be tweeting down there and you can check out a video of the event on Thursday.