Eve Gordon, actor and circus artist.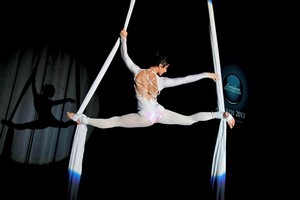 My happy place is being up in the air. I'm a circus artist, or aerialist, as we call ourselves. I'm a silks artist, primarily, so it's all about wrapping yourself up in silks and dropping down. If you've ever seen Pink do it, you'll know what I mean. It's very Cirque du Soleil kind of stuff.
It's hard work. It's taken me seven years of training to be at the top of my game in New Zealand. One of the coolest tricks I do is a double star. Basically, you wrap yourself in silks about four times in the air - so you wrap, wrap, wrap, wrap, wrap - and then you drop all the way so you let yourself go - and you roll, roll, roll, roll, roll - all the way to the bottom, so you land in a little knot.
The cooler tricks are the strength and flexibility ones, like when you've just got the silk wrapped around one hand, and you're hanging on with that hand. A hand climb is really tricky - where you just climb with your hands and no feet. I can do that. There are few girls who can, but I've been training.
The problem with the really hard tricks is that, quite often, to a non-discerning audience, the simple tricks are the ones that make them say: "Wow." And the death-defying tricks you work five months on, they say: "Oh yeah, that looks cool."
It's really dangerous. You've always got to keep your head with this stuff, because it is literally your life in your hands, every time you're up there.
When I was a kid I was a bit physically timid. I did a little bit of gymnastics but I wasn't very good at it. I did a fair bit of dancing but I wasn't brave. As I got older I got braver and braver, which is quite cool.
When you're performing it's this combination of having to show the death-defying nature of it, as well as showing the beauty and the grace and the ease. You don't want people to know that you're at the end of your strength and you can barely hold on. You want to make it look like it's this beautiful dance.
Telling the story is the most important thing. Without a story, circus is just "ta DAH, and ta DAH, and ta DAH", just trick, trick, trick. That gets pretty boring. But when you've got a story there, every movement comes alive.
- as told to Bronwyn Sell
* Eve Gordon plays Stacey in The Almighty Johnsons, which returns to TV3 on Wednesday, 8.30pm. Her next public aerial performance is at the free Lakeside concert at Rotorua on March 10.